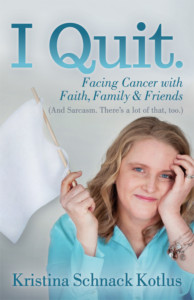 NEW YORK—February 4, 2020—Morgan James' new release, I Quit: Facing Cancer with Faith, Family and Friends by Kristina Schnack Kotlus, helps cancer patients deal with their difficult diagnosis. Written by a brain cancer survivor, I Quit provides strength and encouragement to individuals struggling with cancer from the perspective of someone who has experienced it firsthand.
According to the National Cancer Institute, nearly 1.8 million people are diagnosed with cancer every year in the United States. Those 1.8 million people will face a whirlwind of emotions like fear and anger on top of the obvious physical suffering cancer brings. Having dealt with this experience twice herself, Kristina Schnack Kotlus knows how a cancer diagnosis leaves one depressed and searching for answers. Offering a lighthearted, sarcastic, and even humorous outlook, Kotlus leads cancer patients to discover a new outlook on life in I Quit: Facing Cancer with Faith, Family and Friends.
Candidly sharing her experiences with chemo, radiation, and doctors, Kotlus outlines how her faith and family directed her cancer journey, and how she maintained a positive attitude in the midst unfortunate circumstances. I Quit: Facing Cancer with Faith, Family and Friends encourages patients with a positive Christian message to choose joy and choose peace in the midst of cancer's turmoil. Filled with raw, honest emotion balanced with humorous anecdotes and encouraging words of wisdom, I Quit features themes of determination and resilience that will inspire those diagnosed with cancer to keep fighting and push through their diagnosis.   
If you would like more information about this topic, or to schedule an interview with Kristina Schnack Kotlus, please call Nickcole Watkins at 516.900.5674.
About the Author: Kristina Schnack Kotlus is a two-time brain cancer survivor. She has a degree in Comparative Religion from George Mason University by way of Holy Cross College. She was baptized a Lutheran, currently attends an Assemblies of God church, and is married to a non-practicing Jew. Her writing has been published in numerous local magazines and newspapers, as well as on her own website, PwcMoms. Kristina was recognized as Blogger of the Year in Northern Virginia, 40 Under 40 in Northern Virginia, and an Influential Woman in Prince William County. She  currently resides in Manassas, Virginia, with her husband and three children, who she homeschools. 
More About This Title: I Quit: Facing Cancer with Faith, Family and Friends by Kristina Schnack Kotlus will be released by Morgan James Publishing on February 4, 2020. I Quit—ISBN 9781642795318—has 184 pages and is being sold as a trade paperback for $14.99.
About Morgan James Publishing: Morgan James publishes trade quality titles designed to educate, encourage, inspire, or entertain readers with current, consistent, relevant topics that are available everywhere books are sold. (www.MorganJamesPublishing.com)
# # #