NEW YORK—December 12, 2017—Morgan James' new book release, 128 Billion to 1: Ten Steps to Beat the Odds and Win Your NCAA Tourney Office Pool by Mike Nemeth, explains the secrets and inner workings of the NCAA Tournament to exponentially increase one's odds of filling a winning bracket. It was written for basketball fans who are betting on a winning team for the NCAA Championship.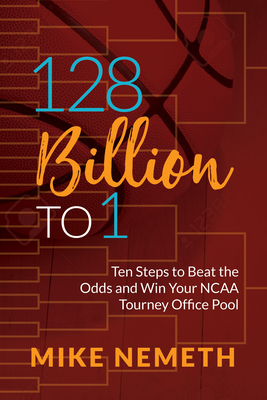 128 Billion to 1 is a simple, yet ingenious guide that gives sports fans the edge they need to beat their fellow employees in an office pool. It provides a new, honest perspective on the way the NCAA Championship works, and explains the factors that can truly predict the outcome. Through basic mathematics and straightforward explanations, Mike Nemeth helps NCAA fans predict a winner with far greater accuracy.
Many people bet on the NCAA Basketball Championship with misconceptions about how the winner is actually chosen. The goal of 128 Billion to 1 is to help fans make wise, informed decisions using new statistics and an inside knowledge of the tournament format. Nemeth reveals the random, chaotic nature of the NCAA Tournament, yet also gives ten specific rules for overcoming the seemingly impossible odds. With the new knowledge from 128 Billion to 1, readers will have an overwhelming advantage in their next office pool.
If you would like more information about this topic, or to schedule an interview with Mike Nemeth, please call Nickcole Watkins at 516.900.5674.
About the Author:
Mike Nemeth is a writer and former Information Technology executive. He is also a fan of NCAA basketball, and his passion inspired him to write his new book, 128 Billion to 1. Nemeth is known for his crime thriller, Defiled, which became a bestselling book on Amazon. Mike now lives in the suburbs of Atlanta, Georgia, where he enjoys spending time with his wife, Angie, and their rescue dog, Sophie.
More About This Title:
128 Billion to 1: Ten Steps to Beat the Odds and Win Your NCAA Tourney Office Pool by Mike Nemeth will be released by Morgan James Publishing on December 12, 2017. 128 Billion to 1—ISBN 9781683506355—has 100 pages and is being sold as a trade paperback for $9.95
About Morgan James Publishing:
Morgan James publishes trade quality titles designed to educate, encourage, inspire, or entertain readers with current, consistent, relevant topics that are available everywhere books are sold. (www.MorganJamesPublishing.com)
# # #