NEW YORK—April 25, 2017—Morgan James's new release, Self-Employed: 50 Signs That You Might Be An Entrepreneur by Joel Comm and John Rampton, leads readers to a career of being their own boss.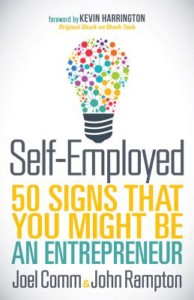 Being an entrepreneur takes a certain level of drive, motivation, and determination. It's competitive and fast paced, and unfortunately it's not for everyone. It takes a certain kind of person, and renowned, successful entrepreneurs Joel Comm and John Rampton are here to help readers determine if they're cut out to make it as an entrepreneur with their new book, Self-Employed: 50 Signs That You Might Be An Entrepreneur.
Self-Employed offers readers 50 sure fire signs that can help identify if they have what it takes to be a successful entrepreneur. Written by authors who have already made it in the business, and with stories about other successful entrepreneurs, the contents come from decades of joint experience and a vast ocean of knowledge. In an easy to follow list format that makes for quick reading, Self-Employed outlines the qualities and habits that characterize an entrepreneur, providing the reader a basis for self-reflection.
Whether considering a career change or just starting out on a professional journey, this guide is a relevant resource to entrepreneurs, small business owners, and freelance workers alike.
If you would like more information about this topic, or to schedule an interview with Joel Comm and John Rampton, please call Nickcole Watkins at 516.900.5674.
About the Author:
John Rampton is an entrepreneur who has started and sold a number of successful businesses and currently operates Due, an online invoice and payments company. He has had a successful blog that is followed by thousands and has turned into an influencer in entrepreneurism, technology, and Internet Marketing. John has also spoken at many technology, marketing, and entrepreneur events.
Joel Comm is an author, speaker, consultant and entrepreneur with 12 published books. These books include The AdSense Code, Click Here to Order: Stories from the World's Most Successful Entrepreneurs, KaChing: How to Run an Online Business that Pays and Pays and Twitter Power 2.0. He has also written over 40 ebooks. He has appeared in The New York Times, on Jon Stewart's The Daily Show, on CNN online, on Fox News, and several other noteworthy news sources.
More About This Title:
Self-Employed: 50 Signs That You Might Be An Entrepreneur by Joel Comm and John Rampton will be released by Morgan James Publishing on April 25, 2017. Self-Employed—ISBN 978-1683501732—has 220 pages and is being sold as a trade paperback for $17.95.
About Morgan James Publishing:
Morgan James publishes trade quality titles designed to educate, encourage, inspire, or entertain readers with current, consistent, relevant topics that are available everywhere books are sold.
 # # #