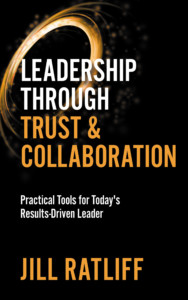 NEW YORK— August 4, 2020— Morgan James' new release, Leadership Through Trust & Collaboration: Practical Tools for Results-Driven Leaders, by Jill Ratliff, sets the foundation for effective leadership. Jill Ratliff explains why current strategies with off-site motivationally charged leadership classes don't work and how wasteful of time and money they can be. Her leadership framework reinforces the need for simplicity, self-control, joy, kindness, and big-picture thinking in the workplace. 
Jill Ratliff understands how stressful and challenging a workplace can be. Ratliff knows that leaders are often faced with resistance from employees and managers alike when discussing and implementing change. Once a leader reveals change and challenges as a natural part of a business' growth, however, employees will often rally together to learn and better adjust to these changes. Leadership Through Trust & Collaboration depicts relatable workplace scenarios and offers advice for forming stronger, more trustworthy connections. 
In Leadership Through Trust & Collaboration, Jill Ratliff shares new ways to focus mental and physical energy in order to reduce stress. When approached intentionally, implementing Ratliff's strategies can make a measurable impact on workplace satisfaction. Every choice that leaders make can bring a team closer together or further apart, so Jill Ratliff encourages business professionals to listen to the concerns of their coworkers and subordinates, in order to cultivate a more harmonious and productive workplace.  
If you would like more information about this topic, or to schedule an interview with Jill Ratliff, please call Nickcole Watkins at 516.900.5674.
About the Author: Jill Ratliff is an Author, Executive Coach, and Leadership Speaker.  She has more than 20 years of Fortune 100 Human Resources Management experience. Jill provides thought leadership and execution of "People & Culture" initiatives that align to and help drive exceptional business results. Jill is a sought-after leadership speaker, focusing especially with leaders interested in taking their game to the highest level. 
More About This Title: Leadership Through Trust & Collaboration: Practical Tools for Today's Results-Driven Leaders by Jill Ratliff, will be released by Morgan James Publishing on August 4, 2020. Leadership Through Trust & Collaboration—ISBN 9781642798593—has 152 pages and is being sold as a trade paperback for $16.95. 
About Morgan James Publishing: Morgan James publishes trade quality titles designed to educate, encourage, inspire, or entertain readers with current, consistent, relevant topics that are available everywhere books are sold. ( www.MorganJamesPublishing.com )