NEW YORK—June 20, 2017—Morgan James's new release,The Mind Hack Recipe: 7 Proven Techniques to Hack Your Brain for Amazing Mind Powers by Jason Mangrum, is his collection of powerful techniques that provide manageable treatments for stress, pains from illness, and openness to new opportunity. The Mind Hack Recipe is intended for people from 25-54+ who are looking for transformation through meditation and visualization practices.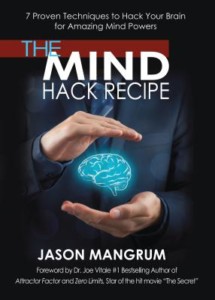 Whether they face pressure from work, disease, or roadblocks in life, people often seek ways to change their lives through drastic measures. The Mind Hack Recipeis a solution that doesn't require extreme practices that require immense investment of time or resources. They are exercises that are simple, quick, and designed to implement painlessly. Jason's steps focus on what seems to work, saving readers time that they can use to improve themselves. After mastering his critical techniques, the 'practice' behind them turned into 'routine'. The effects that accompany them become part of individuals' daily life.
The Mind Hack Recipe incorporates many sources in its journey to help readers connect with the world around them. From using Taoist methods of pain relief to easily implemented exercises, concerning action awareness and idea implementation, The Mind Hack Recipe can be an essential tool for people who wish to implement their own change that comes from an often-unutilized source; oneself.
The most important label that The Mind Hack Recipe identifies with is that of self-help. Readers can find their own potential with effort, repetition, and belief. We are often our own worst enemies. Jason's steps for improvement are designed to help us overcome perceived limitations and find out what we are capable of, if we can believe.
If you would like more information about this topic, or to schedule an interview withJason Mangrum, please call Nickcole Watkins at 516.900.5674.
About the Author:
Jason Mangrum has been intensively studying consciousness and human potential for over a decade. His previous book "Uberman" became a bestseller and is now being sold for up to $1,000 on Amazon. His unique blend of psychology, metaphysics and psycho-energetic science has gifted him with the uncanny ability to shift reality at the level of information, and has helped thousands of people from all over the world experience profound shifts and changes in their physical, emotional and mental states of being. He lives in Nashville Tennessee.
More About This Title:
The Mind Hack Recipe: 7 Proven Techniques to Hack Your Brain for Amazing Mind Powers by Jason Mangrumwill be released by Morgan James Publishing on June 20, 2017. The Mind Hack Recipe—ISBN978-1683502524—has 136 pages and is being sold as a trade paperback for $12.95.
About Morgan James Publishing:
Morgan James publishes trade quality titles designed to educate, encourage, inspire, or entertain readers with current, consistent, relevant topics that are available everywhere books are sold. (www.MorganJamesPublishing.com)
 # # #