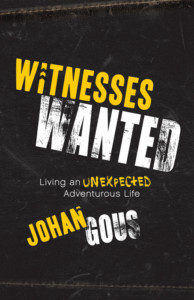 NEW YORK—July 9, 2019—Morgan James's new release, Witnesses Wanted: Living an Unexpected Adventurous Life by Johan Gous, portrays a life devoted to sharing the Gospel of Jesus Christ with everyone, everywhere, "even to the ends of the earth." After spending forty years ministering to rural communities in South Africa, Johan Gous is able to share the honest details of international ministry as well as an authentic approach to growing disciples.
In Witnesses Wanted, Johan Gous describes the challenges and lessons he experienced throughout his ministry, including raising financial support, growing a family, and listening to God's calling for direction. He shares the details of his early spiritual development, attending church and learning about Christ while pursuing a lucrative career in engineering, as well as his ultimate choice to leave that field behind. Gous explains how his time volunteering with Harbour Ministries, providing bibles to countries with restricted access to the Gospel, was ultimately preparing him for his role with Open Door Ministries, to aid refugees and impoverished communities across Africa after the devastation of civil war, and to encourage the Christian communities in each place, whether it was legal or not.
Upon returning to South Africa, Johan Gous' approach shifts from supporting communities to equipping, empowering, and encouraging disciples. Gous explains that it is necessary to work with individuals who have already taken on certain responsibilities, and shown themselves to be "faithful in little," so they can be trained for more. He emphasizes the necessity for biblical truths, rather than "doctrinal dogma," when training disciples, so that they may better teach local pastors according to scripture, creating an encouraging environment for education.
Witnesses Wanted is an invaluable resource for Christian pastors and small group leaders, as well as anyone considering the call to ministry, whether on a local or global scale. Gous considers himself to be "just another disciple," and considers his story as nothing more than a vessel to share the good news of Jesus' resurrection and divinity.
If you would like more information about this topic, or to schedule an interview with Johan Gous, please call Nickcole Watkins at 516.900.5674.
About the Author: Johan Gous is a Bible-believing Christian who serves different denominations that acknowledge Jesus, Christ as the Son of God and Savior in a personal relationship. He is a member of City Church in Charlottesville, Virginia. Working in the Durban harbor as an electrical engineer on building and repairing electrical systems on ships, Johan was exposed to the dark side of the world. Hearing Brother Andrew (aka God's Smuggler) speak about persecution of the Body of Christ opened his heart for serving in a walk of faith to wherever God called, and he has now served forty years in Ministry leadership. Johan resides in Charlottesville, VA and spends a significant amount of time in ministry in Johannesburg, Pretoria, and Durban, South Africa.
More About This Title: Witnesses Wanted: Living an Unexpected Adventurous Life by Johan Gous, will be released by Morgan James Publishing on July 9, 2019. Witnesses Wanted: Living an Unexpected Adventurous Life—ISBN 9781642792560—has 180 pages and is being sold as a trade paperback for $14.99.
About Morgan James Publishing: Morgan James publishes trade quality titles designed to educate, encourage, inspire, or entertain readers with current, consistent, relevant topics that are available everywhere books are sold.(www.MorganJamesPublishing.com)
 # # #