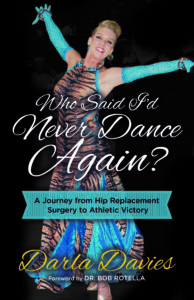 NEW YORK—March 5, 2019—Morgan James' new book release, Who Said I'd Never Dance Again: A Journey from Hip Replacement Surgery to Athletic Victory by Darla Davies, tells the story of Davies' comeback to ballroom dancing after joint replacement surgery. This book was written to encourage anyone that has experienced physical setbacks, especially athletes.
In the world of athletics, one serious injury can be career-ending. Author and ballroom dancer Darla Davies experienced this firsthand when she received an artificial hip. As joint replacements typically severely limit one's agility and flexibility, Davies was often told that she could never return to the dance floor. However, Davies' new book, Who Said I'd Never Dance Again, explains how she defied the odds and came back to ballroom dancing stronger than ever before.
Who Said I'd Never Dance Again recounts the difficult journey that Davies took after her injury and surgery, before managing to regain the national championship three years later. It also comforts readers that are facing their own surgery, and teaches them what they should and should not do in order to make the best recovery possible. Who Said I'd Never Dance Again not only helps these people overcome their physical setbacks, but also inspires them with the joy and passion to continue to chase their dreams, regardless of their injuries.
If you would like more information about this topic, or to schedule an interview with Darla Davies, please call Nickcole Watkins at 516.900.5674.
About the Author: Darla Davies is an experienced competitive ballroom dancer. She won the United States Pro Am American Smooth Championship Title before a serious injury called for hip replacement. Despite this, Davies managed to return and take the national championship yet again just three years later. Since then, Davies has continued to win championships across the United States every year and has even appeared on PBS television's America's Ballroom Challenge with her husband and dance partner, Jim Maranto. Davies now maintains a residence in Charlottesville, Virginia, but often spends time either in Arizona or traveling to competitions around the country.
More About This Title: Who Said I'd Never Dance Again: A Journey from Hip Replacement Surgery to Athletic Victory by Darla Davies will be released by Morgan James Publishing on March 5, 2019. Who Said I'd Never Dance Again—ISBN 978-1642790917—has 215 pages and is being sold as a trade paperback for $17.95
About Morgan James Publishing: Morgan James publishes trade quality titles designed to educate, encourage, inspire, or entertain readers with current, consistent, relevant topics that are available everywhere books are sold. (www.MorganJamesPublishing.com)
# # #