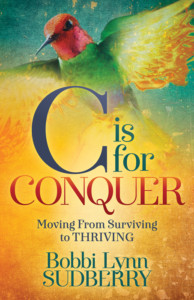 NEW YORK—November 1, 2019—Morgan James' new book release, C is for Conquer: Moving From Surviving to Thriving by Bobbi Lynn Sudberry, takes an honest, yet hopeful look at cancer and its effects through a humorous lens. C is for Conquer was written by a cancer survivor to help others struggling with the disease.
Each person has a different experience with cancer, but they are all left with some similar questions. People wonder why it happened to them, how to live with it, and how to eventually conquer it. Bobbi Sudberry, a breast cancer survivor, provides encouraging answers to these questions and more in C is for Conquer. The purpose is to shift the perspectives of cancer patients and help them appreciate life even when it is difficult to remain positive.
Dealing with cancer can be an emotional roller coaster, but C is for Conquer helps cancer patients unlock the power and control they need to make it through this trying time. Containing helpful wisdom and humorous stories from Sudberry's own experiences, C is for Conquer comforts cancer patients during their most difficult times. This content is derived from Bobbi Sudberry's personal journal and blog entries created while she was dealing with her cancer. Through these relatable passages, cancer patients learn that they are not alone in their challenging journey and that cancer is not the end, only the beginning.
If you would like more information about this topic, or to schedule an interview with Bobbi Sudberry, please call Nickcole Watkins at 516.900.5674.
About the Author: Bobbi Sudberry is a writer and founder of the non-profit organization, "Kaity's Way". Sudberry has her Associates Degree in General Studies with certification as a Senior Paralegal, as well as a variety of work experience including retail, pharmaceuticals, law, and home health. Bobbi Sudberry has written and published the article "When a Parent is Born" along with many newsletters, called Kaity's Korner, for the non-profit organization she and her husband started. As a breast cancer survivor, Sudberry has a passion for helping people struggling with this disease, which motivated her to write her new book, C is for Conquer. Sudberry currently lives in Phoenix, Arizona.
More About This Title: C is for Conquer: Moving From Surviving to Thriving by Bobbi Sudberry will be released by Morgan James Publishing on October 1, 2019. C is for Conquer— ISBN 9781642793437—has 196 pages and is being sold as a trade paperback for $16.95
About Morgan James Publishing: Morgan James publishes trade quality titles designed to educate, encourage, inspire, or entertain readers with current, consistent, relevant topics that are available everywhere books are sold. (www.MorganJamesPublishing.com)
# # #