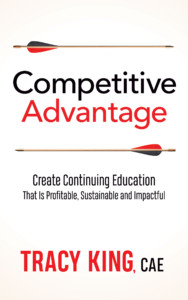 NEW YORK—November 1, 2019—Morgan James' new business book release, Competitive Advantage: Create Continuing Education That is Profitable, Sustainable, and Impactful by Tracy King, increases the success of businesses by improving their learning programs. Competitive Advantage was written for any organization that offers continuing education.
A CE business' learning portfolio is vital to its success, and in today's competitive market, outdated learning formats will not suffice. Without adapting, businesses risk becoming irrelevant as learner expectations change. However, building effective continuing education programs will give any business an invaluable advantage over the competition. Competitive Advantage was designed to help businesses rise to their potential and greatly increase their impact through better learning design.
The leadership in the professional association industry faces tremendous pressure in trying to adapt to new technologies and overcome workforce disruptions, all while maintaining a tight budget. Competitive Advantage shows readers how to find lasting solutions to all of these issues. It also addresses the common mistakes in the professional association industry while guiding readers through the process of making a program that stands out from competitors. Competitive Advantage will not only give businesses the learning portfolio they need now, but also teach them how to continue to create new, effective education strategies in the future.
If you would like more information about this topic, or to schedule an interview with Tracy King, CAE, please call Nickcole Watkins at 516.900.5674.
About the Author: Tracy King is an author, speaker, consultant, and Chief Learning Strategist and CEO of InspirEd. For more than two decades, Tracy has helped organizations develop effective learning design and education strategies. Tracy's work focuses on creating CE businesses with sustainable, reliable growth that make an impact on learners. Tracy is also a speaker and DELP Scholar, and currently lives in Minneapolis, MN.
More About This Title: Competitive Advantage: Create Continuing Education That is Profitable, Sustainable, and Impactful by Tracy King will be released by Morgan James Publishing on October 1, 2019. Competitive Advantage— ISBN 9781642793680 —has 182 pages and is being sold as a trade paperback for $16.95
About Morgan James Publishing: Morgan James publishes trade quality titles designed to educate, encourage, inspire, or entertain readers with current, consistent, relevant topics that are available everywhere books are sold. (www.MorganJamesPublishing.com)
# # #