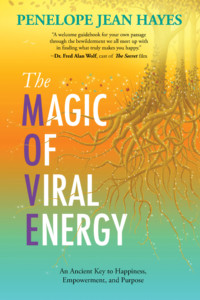 NEW YORK—February 18, 2020—Morgan James's new release, The Magic of Viral Energy: An Ancient Key to Happiness, Empowerment, and Purpose, by Penelope Jean Hayes, helps men and women seeking the answer to universal questions. As a contemporary philosopher, Penelope Jean Hayes is excited to show motivated individuals how to reach their true destiny by thinking differently and co-creating their circumstances, experiences, relationships, health, wealth, and happiness. 
The Magic of Viral Energy introduces the concept that energy has a contagious nature as it moves through social interactions and environmental obstacles. Penelope Jean Hayes shares her message with entertaining and enlightening anecdotes that exemplify how energy works in everyday life. Hayes describes the properties of viral energy as a natural phenomenon that can occur spontaneously or intentionally, according to an individual's actions. She emphasizes the importance of being aware of one's surrounding energy, as it can directly impact the quality of their experiences. 
Penelope Jean Hayes explains that the phenomenon of viral energy happens not by the law of attraction, but by way of osmosis. She demonstrates how to draw from, contribute to, and create with one's surrounding energy as a conscious behavior and habit to develop. Hayes works with inquisitive adults to build karmic magnetism, giving them the tools to create a life of providence and fulfillment. In The Magic of Viral Energy, Penelope Jean Hayes reveals the missing key to joy, meaning, and purpose. 
If you would like more information about this topic, or to schedule an interview with Penelope Jean Hayes, please call Nickcole Watkins at 516.900.5674
About the Author: Penelope Jean Hayes is a motivational and metaphysical writer, contemporary philosopher, and speaker. As a writer, her work has appeared in HuffPost and Face the Current magazine. She practices osmotic-energy-balancing and writes her spiritual and cosmology theories through a process of higher-stream-consciousness known as automatic writing. Penelope has a background as a popular culture analyst and she has had hundreds of television appearances as an expert guest, including for Dr. Phil and ABC News. Penelope is an advocate for Higher-Self-development and the pursuit of "viral energy" as a field of study. She uses her voice to call for the protection of the planet through the preservation of endangered species and the adoption of plant-based food sources. Penelope currently lives in Naples, Florida, although she is often on the move.
More About This Title: The Magic of Viral Energy: An Ancient Key to Happiness, Empowerment, and Purpose, by Penelope Jean Hayes, will be released by Morgan James Publishing on February 18, 2020. The Magic of Viral Energy — ISBN 9781642796087—has 292 pages and is being sold as a trade paperback for $17.95.
About Morgan James Publishing: Morgan James publishes trade quality titles designed to educate, encourage, inspire, or entertain readers with current, consistent, relevant topics that are available everywhere books are sold. ( www.MorganJamesPublishing.com )
 # # #