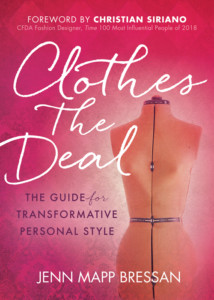 NEW YORK—July 16, 2019—Morgan James's new release, Clothes the Deal: The Guide for  Transformative Personal Style, by Jenn Mapp Bressan, is the savvy woman's handbook to maintaining a minimalist, mindful approach to fashion and personal style. As a personal stylist and closet coach, Jenn Mapp Bressan explains why closet size doesn't matter, the surprising places you store "closet fat" and how to eliminate it for good, and ten essential garments women need to create an endless wardrobe. Clothes the Deal teaches women how to master an enviable look for work and play that they can depend on for the rest of their life.
In Clothes the Deal, Jenn Mapp Bressan presents a convincing argument for adopting a minimal wardrobe, reinforces a "slow-fashion" approach to clothing purchases, and encourages women to reignite their self esteem through self-care and grooming. Bressan discourages the idea that stylish people have large closets, as she claims that owning excess items is not the same as owning valuable pieces. "Women wear fast fashion pieces less than 5 times before they are discarded," she writes, telling women to stop buying, "cheap, trendy, and cheerful garments" that will not last through repeated washing and wearing.
Jenn Mapp Bressan encourages women to "trim the fat" of their closets in order to use the "Lean Closet Model,"  an approach based on maximizing value and minimizing waste, which requires cutting spending and increasing productivity. The "Lean Closet Model," or Capsule Waredrobe, has a strong foundation of well-made clothes, usually comprised of 35-40 core items, which don't include accessories, undergarments, or other closet staples. Bressan's systematic approach to purging closets makes the ordeal far more manageable than if done alone. Her word choice appeals most to female entrepreneurs, but her techniques can be applied universally, to anyone's closet.
If you would like more information about this topic, or to schedule an interview with Jenn Mapp Bressan, please call Nickcole Watkins at 516.900.5674.
About the Author: Personal stylist and closet coach, Jenn Mapp Bressan is a reformed shopaholic who whittled her enormous closet—spanning four dress sizes and three rooms—to 40 core garments. Now a big believer in capsule wardrobes, she rehabs closet junkies by applying her "Tiny Closet, Tons of Style®" editing philosophy. Jenn has been honored in Washingtonian Magazine's annual Best of DC issue. Jenn lives with her husband Matt and two children, AJ and Ashby, in Falls Church, VA
More About This Title: Clothes the Deal: The Guide for  Transformative Personal Style, by Jenn Mapp Bressan, will be released by Morgan James Publishing on July 16, 2019. Clothes the Deal—ISBN 9781642792607—has 120 pages and is being sold as a trade paperback for $14.95.
About Morgan James Publishing: Morgan James publishes trade quality titles designed to educate, encourage, inspire, or entertain readers with current, consistent, relevant topics that are available everywhere books are sold. (www.MorganJamesPublishing.com)
 # # #