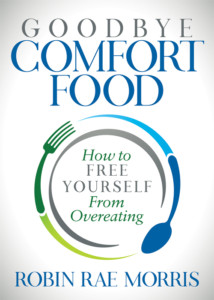 NEW YORK—July 23, 2019—Morgan James's new release, Goodbye Comfort Food: How to Free Yourself from Overeating, by Robin Rae Morris, is an essential guide for women to enjoy life without using food for comfort. Goodbye Comfort Food takes women through seven practices that provide practical tools for daily use and offers mindset changes that allow them to be free from overeating. Robin Rae Morris's application of tools and mindfulness techniques gives women a new way of looking at long-term eating issues by paying attention to nourishing both their bodies and their lives.
Robin Rae Morris personally understands the underlying motivations behind overeating. Morris explains her own successes and failures regarding food, in order to demonstrate why many people binge eat, and how dangerous it can become. She states how comfort foods, especially those heavy in carbohydrates and processed sugars, create a feedback loop: the more someone eats them, the more the body craves them. Morris also describes how emotional avoidance can lead to compulsive eating, as the food acts as coping mechanism, a way to lower the immediate stress of a situation, without truly addressing the root of an issue.
In Goodbye Comfort Food, Robin Rae Morris shares an upbeat, engaging, and proven process to help women eat to nourish their bodies, rather than using food to reward, and then punish, themselves. Morris details many helpful techniques to assist women in their struggles with food, including accountability partners, slow eating, and other mindfulness strategies. She is motivated to help women change their relationship with food, and encourages them to use failure as a learning experience, rather than an excuse to punish themselves. This guide is for women who may be successful professionally and socially, but still struggle with overeating. Whether they are younger or older, women looking to make a life change can reap tremendous benefits from Goodbye Comfort Food.
If you would like more information about this topic, or to schedule an interview with Robin Rae Morris, please call Nickcole Watkins at 516.900.5674.
About the Author: Robin Rae Morris is a licensed mental health professional and life coach known for being an inspirational and solutions-based professional. When not traveling to present keynote talks and host retreats at local, national, and international locations, Robin enjoys life in Woodinville, Washington
More About This Title: Goodbye Comfort Food: How to Free Yourself from Overeating, by Robin Rae Morris, will be released by Morgan James Publishing on July 23, 2019. Goodbye Comfort Food—ISBN 9781642792805—has 102 pages and is being sold as a trade paperback for $9.95.
About Morgan James Publishing: Morgan James publishes trade quality titles designed to educate, encourage, inspire, or entertain readers with current, consistent, relevant topics that are available everywhere books are sold. (www.MorganJamesPublishing.com)
 # # #