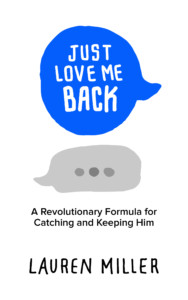 NEW YORK—June 11, 2019—Morgan James' new relationship book release, Just Love Me Back: A Revolutionary Formula for Catching and Keeping Him by Lauren Miller, provides women with a formula that will transform any relationship. Just Love Me Back was written for any woman trapped in an under-committed relationship that wants to take it to the next level.
Commitment issues can make a relationship extremely challenging emotionally. Often, this lack of commitment causes one member of the relationship to get their hopes up, only to watch it nosedive again and again. Lauren Miller wrote Just Love Me Back to break this unhealthy pattern in people's lives.
If allowed to continue, a cycle of uncommitted relationships can leave women feeling unwanted and unloved. Lauren Miller, a life transformation specialist, used her extensive experience to construct a revolutionary formula that can finally bring women their ideal relationship, which she shares in detail through Just Love Me Back. Lauren reveals exactly what people are doing wrong, and how to fix these problems, to put a stop to the lack of commitment forever.
If you would like more information about this topic, or to schedule an interview with Lauren Miller, please call Nickcole Watkins at 516.900.5674.
About the Author: Lauren Miller is a Life Transformation Scientist with a passion for creating practical, applicable solutions to common life problems that people face. Through coaching, writing, and videos, Lauren shows her clients how to make their dream life a reality. Lauren currently lives in Nashville, Tennessee with her Great Dane.
More About This Title: Just Love Me Back: A Revolutionary Formula for Catching and Keeping Him Lauren Miller will be released by Morgan James Publishing on June 11, 2019. Just Love Me Back—ISBN 9781642792089—has 144 pages and is being sold as a trade paperback for $14.95
About Morgan James Publishing: Morgan James publishes trade quality titles designed to educate, encourage, inspire, or entertain readers with current, consistent, relevant topics that are available everywhere books are sold. (www.MorganJamesPublishing.com)
# # #