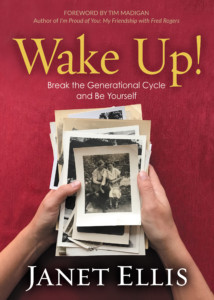 NEW YORK—August 6, 2019—Morgan James's new release, Wake Up! Break the Generational Cycle and Be Yourself, by Janet Ellis, is a powerful tool that helps individuals heal pain from their past and create a life full of freedom and authenticity. Janet Ellis, founder and CEO of Janet's Planets of Empowerment, shares the process she herself has followed to break free of the dysfunction that ruled the early years of her life. As living proof that anyone can emerge from the other side of depression, sadness, and loneliness, she teaches those struggling to awaken their truth, learn to love themselves regardless of their outer world, and break through the blocks that are holding them back.
Wake Up! is for individuals looking to break the cycle of habitually repeated behavior, handed down generation after generation, in order to awaken their full potential. Janet Ellis believes that it's time for people to break the vicious cycle of family dynamics and awaken to who they truly are in order to move forward and create a life full of freedom. Ellis explains that it is possible to change behaviors that lead to transformation in not only the individual's life, but in the lives of those around them. Within the pages of Wake Up! is the message that no matter where someone comes from, what their life has been like, as long as they wake up and are willing to do the work, they can have a life full of freedom and joy.
Janet Ellis shares her life experiences, detailing how she was able to break out of old patterns and create a life she truly wanted to live. She emphasizes that no matter what someone's past looks like, where they come from, or what they have been taught, there is room to step up and take responsibility for their life and create the one they truly want to live. Ellis' honest portrayal of growth connects to individuals in recovery as well as those who have never sought counseling, allowing adults from all walks of life to consider the baggage they carry, and whether they want to do something about it.
If you would like more information about this topic, or to schedule an interview with Janet Ellis, please call Nickcole Watkins at 516.900.5674.
About the Author: Janet Ellis is an impassioned speaker, life coach, and training consultant specializing in personal resilience, emotional and spiritual wellness, leadership, and organizational renewal for teens and adults. Ordained as an Interfaith Minister in 2006, Janet is a co-creator of the Teen Field Guide The Path: Creating Mission and Vision for Work and Life by Laurie Beth Jones. Janet has extensive group leadership and counseling training from the Texas Association of Drug & Alcohol Counselors and makes her home in Arlington, Texas.
More About This Title: Wake Up! Break the Generational Cycle and Be Yourself, by Janet Ellis, will be released by Morgan James Publishing on August 6, 2019. Wake Up! —ISBN 9781642792980—has 94 pages and is being sold as a trade paperback for $11.95.
About Morgan James Publishing: Morgan James publishes trade quality titles designed to educate, encourage, inspire, or entertain readers with current, consistent, relevant topics that are available everywhere books are sold. (www.MorganJamesPublishing.com)
 # # #