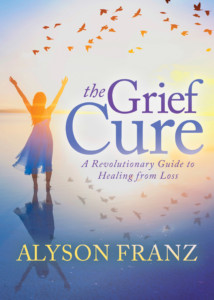 NEW YORK—October 29, 2019—Morgan James's new release, The Grief Cure: A Revolutionary Guide to Healing from Loss, by Alyson Franz, is an inspirational guide offering transformational spiritual principles to foster healing from the traumatic grief of the loss of a loved one. Writing from personal experience, Alyson Franz shares energy healing and spiritual principles that prove grief can also be an opportunity for transformation.
Alyson Franz knows how the loss of a family member can lead to being stuck in traumatic grief that never seems to end. For those who want a break from the sadness, upset, and insomnia that consume their life, The Grief Cure reveals how to rebuild their life. Franz's revolutionary approach explains to men and women why the death of a loved one feels excruciatingly painful, and provides ways to release that emotional pain. She discusses the shortcomings of traditional talk therapies and medication for curing grief, and offers supportive energy healing practices to comfort those who are grieving.
The Grief Cure encourages those who are hurting to move towards complete healing and to find ways to love life again, by embracing the power to heal their broken hearts. Alyson Franz describes the benefits of Synergetic Healing on the mind and the body alongside of thought-provoking questions that assess grief and suggest ways to resolve it. The spiritual lessons in The Grief Cure introduce adults to workshops and personal growth programs to help them break free from the emotional barriers that hold them back from living a life of peace and understanding.
If you would like more information about this topic, or to schedule an interview with Alyson Franz, please call Nickcole Watkins at 516.900.5674
About the Author: Alyson Franz is a bilingual licensed independent clinical social worker with a master's degree in Social Work from Simmons College. She has been in private practice since 2008, when she began Paradigm Shift, LLC after fifteen years in her profession. In her practice, she helps those who have suddenly lost a parent revitalize their lives through a program combining synergetic therapy, energy psychology, and transformational coaching. Alyson resides in Johnston, Rhode Island
More About This Title: The Grief Cure: A Revolutionary Guide to Healing from Loss, by Alyson Franz, will be released by Morgan James Publishing on October 29, 2019. The Grief Cure—ISBN 9781642794069—has 112 pages and is being sold as a trade paperback for $14.95.
About Morgan James Publishing: Morgan James publishes trade quality titles designed to educate, encourage, inspire, or entertain readers with current, consistent, relevant topics that are available everywhere books are sold. (www.MorganJamesPublishing.com)
 # # #