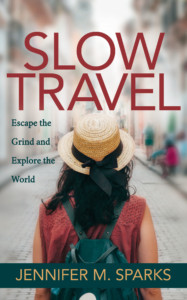 NEW YORK—June 18, 2019—Morgan James' new book release, Slow Travel: Escape the Grind and Explore the World by Jennifer M. Sparks, is a travel guide that helps individuals find the adventure they need in their life. Slow Travel was written for anyone that needs a change of pace from their daily responsibilities.
Even when they achieve the kind of life they have been working for, many people still feel unfulfilled. Their career starts feeling like a rat race, and they need something more. In Slow Travel, author and world-traveler Jennifer M. Sparks shows these people how to take a well-deserved break.
As someone who has seen almost 50 countries across six continents, Jennifer M. Sparks understands how valuable travel experiences can be in a person's life. Her guide, Slow Travel, provides the tools and knowledge that individuals need to finally take a fresh and exciting career break before the opportunity passes them. Slow Travel inspires people to live their travel dreams in a way that is both relaxing and affordable.
If you would like more information about this topic, or to schedule an interview with Jennifer M. Sparks, please call Nickcole Watkins at 516.900.5674.
About the Author: Jennifer M. Sparks is a slow travel expert with a passion for exploring the world. Sparks' journeys have taken her to six different continents and almost 50 countries, including trips from London to Cape Town and Canada's Arctic to Patagonia. Sparks now encourages others to find similar travel experiences in their own lives, and lives in Montrose, Colorado with her family when she is not on the road.
More About This Title: Slow Travel: Escape the Grind and Explore the World by Jennifer M. Sparks will be released by Morgan James Publishing on June 18, 2019. Slow Travel—ISBN 9781642792287—has 150 pages and is being sold as a trade paperback for $14.95
About Morgan James Publishing: Morgan James publishes trade quality titles designed to educate, encourage, inspire, or entertain readers with current, consistent, relevant topics that are available everywhere books are sold. (www.MorganJamesPublishing.com)
# # #