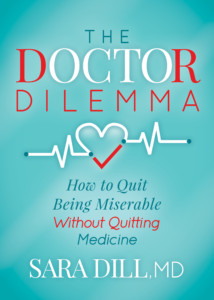 NEW YORK—July 2, 2019—Morgan James' new self-help book release, The Doctor Dilemma: How to Quit Being Miserable Without Quitting Medicine by Sara Dill, MD, helps medical professionals find the work-life balance that makes them truly happy. The Doctor Dilemma was written for any doctors that are feeling burned out in their career.
Doctors have a stressful career, with over 50% of physicians reporting increasing symptoms of burnout. The thought of all of their years of school being a mistake discourages many of these medical professionals. However, The Doctor Dilemma was written to show these people that they can enjoy their life as a doctor even more than they ever dreamed.
As a physician and life coach, Sara Dill understands what doctors are experiencing, while also being equipped to help them make a change. The Doctor Dilemma provides the tools necessary for these medical professionals to transform their lives and feel better than ever. Physicians can permanently reverse their burnout and create the life they want, without abandoning years of hard work, through The Doctor Dilemma.
If you would like more information about this topic, or to schedule an interview with Sara Dill, please call Nickcole Watkins at 516.900.5674.
About the Author: Sara Dill, MD, is a physician, life coach and consultant. After receiving degrees from Harvard, the UC San Diego School of Medicine, and Brown Medical School, Sara practiced as a dermatologist for many years. Sara now uses her skills and experience to help fellow physicians overcome the challenges of their career path, such as overwork, burnout, and dissatisfaction. Sara now lives in Santa Barbara, California.
More About This Title: The Doctor Dilemma: How to Quit Being Miserable Without Quitting Medicine by Sara Dill will be released by Morgan James Publishing on July 2, 2019. The Doctor Dilemma—ISBN 9781642792454—has 162 pages and is being sold as a trade paperback for $14.95
About Morgan James Publishing: Morgan James publishes trade quality titles designed to educate, encourage, inspire, or entertain readers with current, consistent, relevant topics that are available everywhere books are sold. (www.MorganJamesPublishing.com)
# # #