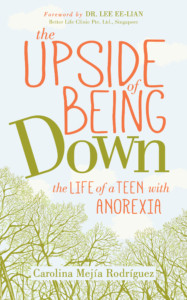 NEW YORK—June 23, 2020—Morgan James' new release, The Upside of Being Down: The Life of a Teen with Anorexia by Carolina Mejia Rodriguez, sheds a much-needed light on those suffering with anorexia. A touching memoir, The Upside of Being Down draws sympathy and compassion as it details the intricacies of this physically manifesting mental illness.
Carolina Mejia Rodriguez understands why eating disorders are often described as "silent killers." According to Rodriguez, many are unaware of how pervasive they can be. With roughly 70 million people worldwide suffering from eating disorders, only ten percent of those struggling every seek treatment. In an effort to raise awareness and encourage others to seek treatment, Carolina Mejia Rodriguez bravely shares the innermost details of her personal battle with anorexia in The Upside of Being Down.
For the millions struggling with disordered eating, the stigma attached to the illness is often what deters them from opening up about their struggles and seeking treatment. The Upside of Being Down destigmatizes the illness of anorexia, creating an open dialogue on the topic and empowering anorexia sufferers to seek the help they need. Boldly sharing her story from the young age of thirteen, Rodriguez provides a relatable ally and inspirational role model for audiences both young and old. With every chapter, The Upside of Being Down: The Life of a Teen with Anorexia offers solace to those suffering silently and emboldens them to join the fight to recovery.
If you would like more information about this topic, or to schedule an interview with Carolina Mejia Rodriguez, please call Nickcole Watkins at 516.900.5674.
About the Author: Having lived with anorexia, depression, and anxiety for three years, Carolina Mejia Rodriguez wrote her first book at thirteen-years-old in an attempt to create awareness about said issues. In addition to winning school awards ranging from the Scholastic Art and Writing Awards to the President's Award of Academic excellence, Carolina is a member of the National Junior Honors Society. Having lived in five countries, (Mexico, USA, Colombia, Chile and Singapore) she has been able to use her third culture kid experience as a vehicle to raise money for a group of children in need in Colombia called Las Estrellas del Rawad. Carolina has been featured on daytime Emmy award winning show, Despierta America, where she advocated for awareness of Anorexia Nervosa in teenagers. She currently resides in Singapore.
More About This Title: The Upside of Being Down: The Life of a Teen with Anorexia by Carolina Mejia Rodriguez will be released by Morgan James Publishing on June 23, 2020. The Upside of Being Down—ISBN 9781642797312—has 166 pages and is being sold as a trade paperback for $14.95.
About Morgan James Publishing: Morgan James publishes trade quality titles designed to educate, encourage, inspire, or entertain readers with current, consistent, relevant topics that are available everywhere books are sold. (www.MorganJamesPublishing.com)