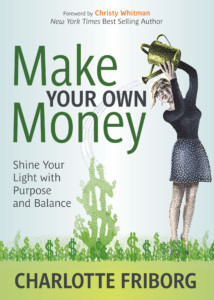 NEW YORK—June 30, 2020— Morgan James' new release Make Your Own Money: Shine Your Light with Purpose and Balance, by Charlotte Friborg, is a motivational guide for stay-at-home moms to get back to making their own money. Many mothers are concerned about balancing a new career with their responsibilities at home, but with Charlotte Friborg's model, they can learn how to find the right career that fits their lifestyle. 
In Make Your Own Money, Charlotte Friborg shares her twenty years of personal and professional studying to encourage and inspire women to embrace their power, making money while continuing to be an amazing parent to their kids. Friborg shares how to allocate time to the different demands of her life, from her role as a wife and mother to her responsibilities as a careerwoman. She emphasizes that this process won't yield overnight results; it will take tackling one section of the "life wheel" at a time with unfettered determination. 
Charlotte Friborg provides the right tools to mothers looking to transition back into their careers. In Make Your Own Money, she teaches stay-at-home moms how to prioritize and nurture their dreams. Friborg's approach is not meant to add more stress with a longer to-do list, but to reorganize a mother's daily life, making it easier to maneuver through each obstacle. Make Your Own Money helps mothers address their fear of failure and the adverse opinions of society in order to experience the freedom of financial independence.
If you would like more information about this topic, or to schedule an interview with Charlotte Friborg, please call Nickcole Watkins at 516.900.5674.
About the Author: After earning her NLP Master Practitioner and her first coaching certification in Denmark, she started her own company. Her dream of staying home with her kids came true when she with her husband, Brian, and their three children moved to Florida. She earned her second coaching certification as a Law of Attraction life coach and also became a Light Body Meditation graduate in the US when she decided to start a career again. Having studied and implemented various tools in her life for more than two decades helps her to live a life with 360-degree life mastery – perfectly imperfectly. The core of her work lies in integrating success habits with the universal principles that no one taught us about in school. She is a master at finding people's strengths and potential.
More About This Title: Make Your Own Money: Shine Your Light with Purpose and Balance by Charlotte Friborg, will be released by Morgan James Publishing on June 30, 2020. Make Your Own Money—ISBN 9781642797336—has 120 pages and is being sold as a trade paperback for $12.95. 
About Morgan James Publishing: Morgan James publishes trade quality titles designed to educate, encourage, inspire, or entertain readers with current, consistent, relevant topics that are available everywhere books are sold. ( www.MorganJamesPublishing.com )