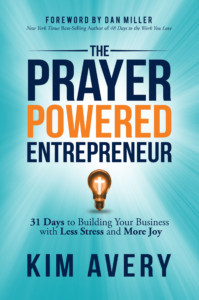 NEW YORK—February 18, 2020—Morgan James's new release, The Prayer Powered Entrepreneur: 31 Days to Building Your Business with Less Stress and More Joy, by Kim Avery, MA PCC, is a challenge for Christian entrepreneurs to powerfully partner with God in their businesses and their personal growth. As a Christian coach and business owner, Kim Avery helps motivated professionals embark on a journey to quiet distractions and trust God with their future.
Kim Avery understands how the everyday frustrations of running a business can take the focus away from a believer's quality time in prayer and reflection with God. She points out how a distracted devotional time can often result in prayers that are broad, unfocused, and strictly tied to the entrepreneur's goals for their business, without considering God's plan for the future of their work. Avery encourages Christian professionals to keep God at the center of everything, praying in alignment with scriptural promises and expecting God's regular intervention in the daily tasks of their business.
The Prayer-Powered Entrepreneur walks entrepreneurs through 31 days of recognizing God as their CEO through a transformative prayer mindset. Kim Avery emphasizes the importance of trusting God with one's personal needs, relationships, and business goals—what could be more powerful than partnering with the one who knows the future? Each chapter teaches business owners how to develop a balanced lifestyle, build a stronger business, and make a bigger impact. Within The Prayer-Powered Entrepreneur, Avery includes printable prayer cards and optional video instruction, as well as an opportunity to connect with a community of fellow entrepreneurs.
If you would like more information about this topic, or to schedule an interview with Kim Avery, please call Nickcole Watkins at 516.900.5674
About the Author: Kim Avery is the Founder and President of Kim Avery Coaching which was started in 2009. Her journey and has resulted in certifications such as Certified Business Coach, Professional Certified Coach, and Certified Career Management Specialist. She earned a BA for Organizational Management from Warner Southern College and an MA for Mental Health Counseling from University of South Florida. Kim is happily married to her husband, Ron, and they have two children and 4 grandchildren. She and Ron currently resides in Winter Haven, FL with their Australian Labradoodle, Samwise Gamgee.
More About This Title: The Prayer Powered Entrepreneur: 31 Days to Building Your Business with Less Stress and More Joy, by Kim Avery, will be released by Morgan James Publishing on February 18, 2020. The Prayer Powered Entrepreneur —ISBN 9781642796032—has 210 pages and is being sold as a trade paperback for $17.99.
About Morgan James Publishing: Morgan James publishes trade quality titles designed to educate, encourage, inspire, or entertain readers with current, consistent, relevant topics that are available everywhere books are sold.
( www.MorganJamesPublishing.com )