NEW YORK—April 18, 2017—Morgan James's new release, The Hustler's Handbook: A Guide to Success in Your New Career by Jason Poole, shows readers how to get from where they are to where they want to be in their professional lives.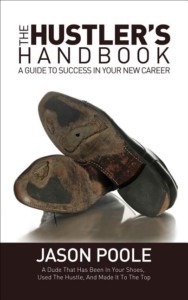 Studies show that the average American changes careers four times in his or her life. As with any change, these transitions are not always easy. Sometimes they are a matter of pursuing one's ever-changing interests, or perhaps they are a matter of being laid off and having to start all over again. Whether a change in career is need-based or desire-driven, one can find success in their new field if they are willing to hustle!
The Hustlers Handbook leads the way for those starting out in a new career. Jason Poole, owner of his own employment business, assures readers that everyone has what it takes to succeed if they follow his HUSTLE path of action. The path he lays out includes steps to be taken not only in one's professional life, but also in their personal lives, to move towards accomplishing their goals. These steps include putting others first, overcoming ego, being kind and mindful of others, and much more.
The Hustlers Handbook: A Guide to Success in Your New Career goes beyond motivational and provides readers a concrete plan of action to ensure the best possible results. The steps are simple to understand, but take dedication and commitment to fully integrate into one's life in order to change and grow professionally and personally. Overcome the mediocrity of your current professional life and reach new heights in your new career with The Hustlers Handbook!
If you would like more information about this topic, or to schedule an interview with Jason Poole, please call Nickcole Watkins at 516.900.5674.
About the Author:
Jason Poole has a Marketing Degree from the University of Southern Mississippi, is a Franchise Owner of Express Employment Professionals in Auburn, AL, Hattiesburg, MS, and Biloxi, MS. Jason is also a Certified coach, speaker, and trainer for the John Maxwell Team, entertainment agent, Real Estate Developer, Owner of Gulf South Realty, owner of Stella/Gray Investments
More About This Title:
The Hustler's Handbook: A Guide to Success in Your New Career by Jason Poole will be released by Morgan James Publishing on April 18, 2016. The Hustler's Handbook—ISBN 978-1683501671—has 112 pages and is being sold as a trade paperback for $9.95.
About Morgan James Publishing: Morgan James publishes trade quality titles designed to educate, encourage, inspire, or entertain readers with current, consistent, relevant topics that are available everywhere books are sold.
###