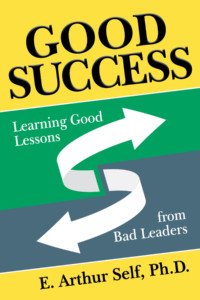 NEW YORK— July 28, 2020—Morgan James's new release, Good Success: Learning Good Lessons from Bad Leaders by E. Arthur Self Ph.D., is the definitive guide to dealing with a leader whose actions create chaos in the workplace. Good Success warns of the mistakes that can ruin leadership, helps victims of bad leadership recover, and helps people gain valuable experience without having to suffer at the hands of a poor leader directly.
With over forty years of business and leadership experience, E. Arthur Self Ph.D. knows that a bad leader's mistakes are more than mistakes; they are lessons ready to be learned from. In Good Success, E. Arthur Self Ph.D. focuses on what people can learn from leaders who made mistakes. Certainly, a bad leader can cause uncertainty and fight against any chance of team resolution, but bad leaders are often the ones who learn the hardest lessons. Good Success teaches the value of these hard lessons. 
Good Success is about more than just bettering leadership skills. Throughout its pages, professionals learn how to handle situations in which someone in a leadership position creates turmoil through their poor management skills. Bad leadership can be disastrous to any organization, but Good Success teaches how to remedy the effects of a substandard leader. 
If you would like more information about this topic, or to schedule an interview with E. Arthur Self Ph.D., please call Nickcole Watkins at 516.900.5674.
About the Author: Arthur Self, Ph.D., has over forty years of experience successfully blending a leadership career in higher education with business theory and organizational practice. He has held positions in community colleges, as well as doctoral degree granting institutions, and has been the president of two institutions of higher learning: Malone University and Seattle Pacific University. He also served as the founding Dean of the School of Business at Northwest University. As a Professor of Business Administration, he taught a variety of courses, such as Business Policy, Management, Leadership, International Business and Entrepreneurship, at the undergraduate and graduate levels. His content knowledge has been broadly and successfully applied in a variety of for-profit, not-for profit, and entrepreneurial settings. Dr. Self is the creator of ASPIRE (Automation Studies Program; Integrated Robotics Education). He resides in Oro Valley, Arizona.
More About This Title: Good Success: Learning Good Lessons from Bad Leaders by E. Arthur Self Ph.D. will be released by Morgan James Publishing on July 28, 2020. Good Success —ISBN 9781642797893—has 330 pages and is being sold as a trade paperback for $21.95. 
About Morgan James Publishing: Morgan James publishes trade quality titles designed to educate, encourage, inspire, or entertain readers with current, consistent, relevant topics that are available everywhere books are sold. ( www.MorganJamesPublishing.com )