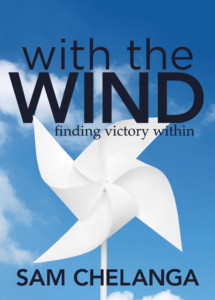 NEW YORK— July 28, 2020—Morgan James' new release, With the Wind: Finding Victory Within, by Sam Chelanga, reveals the key to finding the champion within everyone. With the Wind is a fascinating take on a man's life who fell from triumph, faced unforeseen challenges, and persevered.
Many find themselves living a life they in no way predicted or foresaw. Sam Chelanga, a man from rural Kenya who became a professional runner and a military officer for the United States Army, understands the unpredictable nature of life. Chelanga hopes that his writing will help others realize that they are not alone, and the solutions to life are within their reach. With the Wind is his attempt to show that although people are different in so many ways, they are more alike than they may realize. It is there in that place of likeness that lays the root to the joy that is sought after. The joy, just as the likeness, was there all along.
With the Wind is a true story, written by a man who ran his way out of poverty in rural Kenya, to becoming a collegiate track star and National Champion, to now wearing the Army Green and serving in the US Military. Within its pages, Sam Chelanga gives his raw and inspirational take on life and paves the way to finding the champion within everyone. Chelanga claims that true knowledge requires one to seek inward, to find what is essential internally, in order to truly overcome the obstacles of life.  
If you would like more information about this topic, or to schedule an interview with Sam Chelanga, please call Nickcole Watkins at 516.900.5674.
About the Author: Born in a small remote village in Saimo Hills, Kenya, Sam Chelanga is now a name known by many. Sam is one of the fastest long-distance runners in the world. He has won four NCAA Division One national titles, holds the NCAA Division One 10,000-meter record with the time of 27:08, ran the second fastest indoor 5k time ever run in United States history with a time of 13:04, has run 60:37 for the half marathon, won five national titles, was the champion of the World's Best 10k in San Juan Puerto Rico, and was the alternative for the 2016 Rio Olympics. Sam retired from running in 2018 to join the US Army and is now a 2nd Lieutenant working as a Platoon Leader in Ft. Jackson, SC. Sam has a roaring engine that has propelled him from rural Kenya, to wearing medals around his neck, and to now wearing the Army green. In his professional career he was sponsored by Nike Inc. and upon joining the Army he was featured on ABC 20/20's episode 'The Real Rookies'.
More About This Title: With the Wind: Finding Victory Within, by Sam Chelanga, will be released by Morgan James Publishing on July 28, 2020. With the Wind —ISBN 9781631951527 —has 144 pages and is being sold as a trade paperback for $14.95.
About Morgan James Publishing: Morgan James publishes trade quality titles designed to educate, encourage, inspire, or entertain readers with current, consistent, relevant topics that are available everywhere books are sold. ( www.MorganJamesPublishing.com )