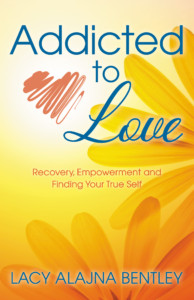 NEW YORK—August 13, 2019—Morgan James's new release, Addicted to Love: Recovery, Empowerment, and Finding Your True Self, by Lacy Alajna Bentley, is a roadmap to recovery for love and sex addicts. Lacy Alajna Bentley is determined to help women by revealing how to break free from self-destructive cycles and embrace the love of a healthy relationship. Addicted to Love is a no-nonsense guide for women wanting to rebuild their relationships and themselves.
In Addicted to Love, Lacy Alajna Bentley introduces her own recovery journey with courageous honesty to guide other women on their paths to recovery. Each chapter focuses on a different trait of emotional health and teaches women to integrate that trait in a workbook-style format. Bentley shows women how to secure their romantic heart, love like they were meant to, and break free from compulsive patterns, while presenting new ways of seeing day-to-day patterns. Addicted to Love guides brave women into the relationships they truly want and deserve—without excuses, compulsions, or addiction in the recovery roadmap of the future.
Bentley understands the daily struggles of women living with love addiction. In Addicted to Love, she explains how these women have learned to cope in a sex-driven world by finding their worth in sexuality, romance, and being desired. She examines how certain behaviors can sabotage an individual's basic human need for lasting, meaningful relationships and offers clear, easily applicable advice for day to day living. Bentley encourages and fosters hope through the ups and downs of recovery while empowering women through open, informative language.
If you would like more information about this topic, or to schedule an interview with Lacy Alajna Bentley, please call Nickcole Watkins at 516.900.5674
About the Author: Lacy A. Bentley graduated from Utah Valley University with a bachelor's in psychology. A wife, mother, women's recovery coach, and author, Lacy works to empower women to live without compulsive, self-destructive behaviors. Her own recovery efforts inform her work, allowing her to lead compassionately, without judgement, but full of love and understanding. Lacy grew up in Las Vegas, Nevada and currently lives in Saratoga Springs, Utah.
More About This Title: Addicted to Love: Recovery, Empowerment, and Finding Your True Self, by Lacy Alajna Bentley, will be released by Morgan James Publishing on August 13, 2019. Addicted to Love—ISBN 9781642792881—has 178 pages and is being sold as a trade paperback for $14.95.
About Morgan James Publishing:Morgan James publishes trade quality titles designed to educate, encourage, inspire, or entertain readers with current, consistent, relevant topics that are available everywhere books are sold. (www.MorganJamesPublishing.com)
 # # #