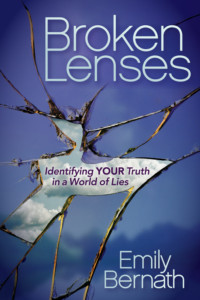 NEW YORK—September 10, 2019—Morgan James's new release, Broken Lenses: Identifying Your Truth in a World of Lies, by Emily Bernath, reveals the truth of who God made people to be and the freedom that results from living out that truth. Emily Bernath offers a systematic look at the lies believed by those with low self-esteem or lacking sense of identity, and addresses many scripture-based truths to instill in the hearts of anyone longing for the acceptance and security of Jesus Christ. Broken Lenses allows young adults to experience the freedom that can only come from living a life rooted in God's love.
As a rape survivor, Emily Bernath understands the feelings of hopelessness and pain that follow trauma. Bernath quickly learned that she was not alone in her experience, and became determined to shine God's light into the lives of young men and women, in order for them to know the truth. Within each chapter, she analyzes and connects each truth to passages from the Bible, to better support her arguments. Bernath also provides tools for anyone believing lies about themselves, to help them face their fear and insecurities directly.
Broken Lenses is a resource for Christians and nonbelievers alike, as it addresses truths that are central to the human condition. Emily Bernath identifies and shares how lovable, capable, and creative each person can be, if only they accept those truths for themselves. She reminds anyone experiencing a season of loneliness that they are never alone, and describes what it looks like to truly embrace each of these truths. Ultimately, Broken Lenses helps readers achieve a more intimate relationship with God and the freedom that He desires each of his children to live in.
If you would like more information about this topic, or to schedule an interview with Emily Bernath, please call Nickcole Watkins at 516.900.5674
About the Author: Emily Bernath attends a non-denominational church, K2 the Church, in the Salt Lake Valley and has a passion for reaching out to women and guiding them to living out an identity rooted in truth. She has spoken to and shared this passion with hundreds of people belonging to various faiths, age groups, and nations. Locally, she serves as a mentor to the next generation in youth ministry and speaks at numerous events in the Salt Lake Valley. Globally, she has shared her passions through humanitarian work in eSwatini, Africa and she currently resides in Salt Lake City, Utah.
More About This Title: Broken Lenses: Identifying Your Truth in a World of Lies, by Emily Bernath, will be released by Morgan James Publishing on September 10, 2019. Broken Lenses—ISBN 9781642793062—has 248 pages and is being sold as a trade paperback for $17.99.
About Morgan James Publishing: Morgan James publishes trade quality titles designed to educate, encourage, inspire, or entertain readers with current, consistent, relevant topics that are available everywhere books are sold. (www.MorganJamesPublishing.com)
 # # #