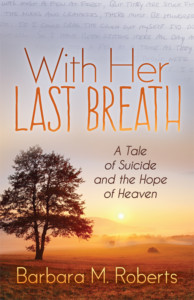 NEW YORK—September 10, 2019—Morgan James's new release, With Her Last Breath: A Tale of Suicide and the Hope of Heaven, by Barbara M. Roberts, provides words of hope for anyone struggling with thoughts of suicide and for any family members reeling from the loss of a loved one. Barbara M. Roberts knows the pervasive impact of suicide personally, after her niece, Kathy, took her own life. With Her Last Breath depicts Roberts' search for answers in Kathy's handwritten journal, left for family members following her suicide.
Prior to the loss of her niece, Barbara M. Roberts could not have imagined that someone in her own family would take their life. However, after reading through the pages of her niece's journal, Roberts grew to understand the struggle of a fellow believer wrestling with suicidal thoughts. Kathy's journal not only details the act itself, but it describes the reasons behind her suicide: why she could not stay on Earth one more day, why she was looking forward instead to her hope of Heaven.
Each chapter of With Her Last Breath is tied to a page in Kathy's journal, intertwining the pages with stories of others and tools to help those who are suicidal as well as their loved ones. Roberts includes what warning signs to watch for, how to care for someone who is struggling, and where to turn in a crisis. With Her Last Breath weaves reminders of God's love and faithfulness throughout its pages, to help anyone facing the threat of suicide, so that they may make sense out of their own suffering and emerge with a vision of God's hope for their lives.
If you would like more information about this topic, or to schedule an interview with Barbara M. Roberts, please call Nickcole Watkins at 516.900.5674
About the Author: Barb M. Roberts is Director of Caring Ministry at Cherry Creek Presbyterian Church, part of the Evangelical Presbyterian Church denomination.  She is a committed Christian, an experienced grief counselor, pastoral counselor, speaker, and directs numerous programs under the umbrella of Caring Ministry. She is the author of Helping Those Who Hurt and has walked alongside many families who have gone through numerous life crises, including the very difficult experience of suicide. She is a wife, mom, and grandma and currently resides in Denver, Colorado.
More About This Title: With Her Last Breath: A Tale of Suicide and the Hope of Heaven, by Barbara M. Roberts, will be released by Morgan James Publishing on September 10, 2019. With Her Last Breath—ISBN 9781642793789—has 148 pages and is being sold as a trade paperback for $15.99.
About Morgan James Publishing: Morgan James publishes trade quality titles designed to educate, encourage, inspire, or entertain readers with current, consistent, relevant topics that are available everywhere books are sold. (www.MorganJamesPublishing.com)
 # # #