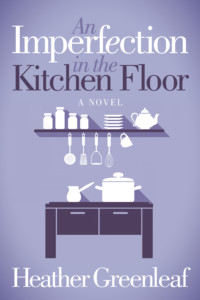 NEW YORK—May 15, 2018—Morgan James Fiction's new release, An Imperfection in the Kitchen Floor by Heather Greenleaf, tells the parallel stories of two women, living a century apart in time, who are forced to make personal sacrifices for the sake of their loved ones.
Molly is a successful sous chef at a popular Washington DC restaurant. When she unexpectedly gets pregnant, her husband Corey decides they should move to a quieter, safer place to raise their family. He convinces Molly to quit the job she loves, and they move to an outdated, rundown home in a small Pennsylvania town. Corey loves the rural life and the creaky house, but Molly, who spends most of her time alone caring for their colicky newborn while Corey works, is not so thrilled.
A century earlier, Tish is a free spirit living in the same house. She has dreams of leaving her family's business and traveling west to pursue art with the man she loves. When tragedy strikes close to home, Tish is faced with the choice to live the life she has always wanted or abandon her dreams to be there for her family when they need her most. Both women are challenged with the task of overcoming their obstacles and finding happiness in their circumstances.
An Imperfection in the Kitchen Floor follows these two strong-willed, ambitious women who, though living in different time periods, are faced with the same personal trials and decisions. Their stories show the universal struggles of womanhood and demonstrate how emotionally taxing the self-sacrificial life of a wife, mother, and woman can be. Greenleaf presents a raw and candid narrative that assures readers that there are other women on similar journeys, and that there is always joy to be found in any situation. With its relatable characters and poignant dual storyline, An Imperfection in the Kitchen Floor provides women with a sense of unity, camaraderie, and understanding for their struggle
If you would like more information about this topic, or to schedule an interview with Heather Greenleaf, please call Nickcole Watkins at 516.900.5674.
About the Author: Heather Greenleaf has a passion for history and the arts. She earned a degree in Culinary Arts from the Restaurant School at Walnut Hill College and a degree in art history from George Washington University. She has written continuously running food columns in the Harlem Times, on Patch.com, and bonedo.com. She is currently employed as a Fine Art Registrar for a nonprofit that travels art exhibitions. Heather also serves as the Vice President of the Upper Moreland Historical Commission and the Archivist for the Upper Moreland Association. She currently resides in Willow Grove, Pennsylvania.
More About This Title: An Imperfection in the Kitchen Floor by Heather Greenleaf, will be released by Morgan James Fiction on May 15, 2018. An Imperfection in the Kitchen Floor—ISBN 9781683506638—has 238 pages and is being sold as a trade paperback for $16.95.
About Morgan James Publishing: Morgan James publishes trade quality titles designed to educate, encourage, inspire, or entertain readers with current, consistent, relevant topics that are available everywhere books are sold.
( www.MorganJamesPublishing.com )
 # # #