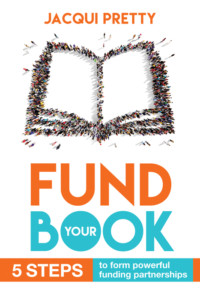 NEW YORK—May 15, 2018—Morgan James's new release, Fund Your Book: 5 Steps to Form Powerful Funding Partnerships by Jacqui Pretty, teaches entrepreneurial authors how to master the financial side of self-publishing and utilize their book to establish a stronger platform for their business.
As technology has evolved, the world of publishing has evolved with it. Online platforms and distributors have given authors the ability to bypass major publishing houses and self-publish their book with ease. However, producing a professional, high quality book can be expensive. Between designers, printers, and editors, self-publishing can cost up to tens of thousands of dollars. From her extensive experience in the publishing industry, Jacqui Pretty has uncovered the keys to gaining funding for any literary project, and she shares them with aspiring authors in Fund Your Book: 5 Steps to Form Powerful Funding Partnerships.
This new resource manual serves as a blueprint for authors who are specifically using their book as part of their business platform. Pretty teaches authors how to fund their book through reciprocal relationships with partners in their industry. In Fund Your Book, she reveals two top strategies for funding through partnerships, as well as a proven five-step process for raising $10,000 or more. Pretty also includes specific email scripts for pitching and securing partnerships, and outlines marketing strategies and tips for securing the right audiences.
Whether an author has thousands of email subscribers or just a handful, and a well-established brand or one that's barely recognizable, Pretty's process can be implemented to drastically improve one's platform and cultivate new and exciting business partnerships. Thorough, practical, and easy-to-implement, Fund Your Book: 5 Steps to Form Powerful Funding Partnerships is a guide for first-time authors and experienced self-publishers alike.
If you would like more information about this topic, or to schedule an interview with Jacqui Pretty, please call Nickcole Watkins at 516.900.5674.
About the Author: Jacqui Pretty is the Founder of Grammar Factory, a publishing company that turns entrepreneurs into authors, and the author of Book Blueprint. Her Book Blueprint system was named one of Australian Anthill's Smart 100 innovations, and she has been featured on Business Insider, Flying Solo, MarketingProfs and more. Since the launch of Grammar Factory in 2013, Jacqui and her team have worked with over 100 authors across a range of industries, many of whom have become Amazon bestsellers, been featured on national television, and doubled their revenue. Jacqui has been invited to speak as a writing and publishing expert by The Entourage, Australia's largest educator and community of entrepreneurs, and the Key Person of Influence program. She resides in Melbourne, Australia.
More About This Title: Fund Your Book: 5 Steps to Form Powerful Funding Partnerships by Jacqui Pretty, will be released by Morgan James Publishing on May 15, 2018. Fund Your Book—ISBN 978-1683506553—has 74 pages and is being sold as a trade paperback for $11.95.
About Morgan James Publishing:  Morgan James publishes trade quality titles designed to educate, encourage, inspire, or entertain readers with current, consistent, relevant topics that are available everywhere books are sold.
( www.MorganJamesPublishing.com )
# # #