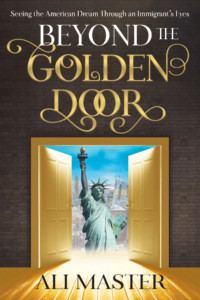 NEW YORK—July 2, 2019—Morgan James' new release, Beyond the Golden Door: Seeing the American Dream Through an Immigrant's Eyes by Ali Master, tells the story of a Pakistani Muslim in search of opportunity. Master immigrates to America and discovers not only the freedom to succeed, but to fail, to learn, and so much more. Beyond the Golden Door is deeply relatable for the millions of immigrants living in America today, and an eye-opening, inspiring read for American-born citizens.
In today's current political climate, topics such as race, religion, and immigration are extremely hot-button issues that can quickly take a conversation from friendly to heated. However, Beyond the Golden Door handles these topics in a way that can only unify. While never shying away from the challenges and harsh realities that he faced as a Muslim immigrant, Ali Master speaks of America and her liberties with such reverence and adoration that readers cannot help but feel a renewed sense of gratitude for the many freedoms afforded them in this country.
Beyond the Golden Door shares the ups and downs of Master's story, from failing out of college and losing everything to climbing his way to corporate success and even finding love along the way. These experiences combined with perhaps his greatest struggle of all — his conversion from Islam to Christianity — all demonstrate the freedoms Master has found in America: the freedom to fail, to grow, and over all, the freedom to choose his own path. Poignant, humorous, and incredibly inspiring, Beyond the Golden Door unifies readers with a newfound respect and drive for the American Dream, and a better understanding of those trying to pursue it. In his book, Master shares with us:
What it was like to be a former Muslim living in America on 9/11.
How he overcame the challenges of thriving as an immigrant to live the American Dream.
Which five freedoms we should all cherish and embrace.
The close connection between our free government and religion.
If you would like more information about this topic, or to schedule an interview with Ali Master, please call Nickcole Watkins at 516.900.5674.
About the Author: Ali Master has personally experienced the freedoms he touts and because he is a former Muslim some of these freedoms, such as the freedom of religion, came at a great personal risk. Ali is now a licensed CPA, seasoned entrepreneur, and a successful managing partner with the  firm of Ernst & Young (EY). He has also served as a member of EY's Diversity & Inclusiveness Council and is a frequent speaker on a range of topics from business to inclusion to leadership. Ali currently lives in North Texas with his wife and four children.
More About This Title: Beyond the Golden Door: Seeing the American Dream Through an Immigrant's Eyes by Ali Master will be released by Morgan James Publishing on July 2, 2019. Beyond the Golden Door—ISBN 978-1642792850—has 234 pages and is being sold as a trade paperback for $17.95.
About Morgan James Publishing: Morgan James publishes trade quality titles designed to educate, encourage, inspire, or entertain readers with current, consistent, relevant topics that are available everywhere books are sold. (www.MorganJamesPublishing.com)
# # #