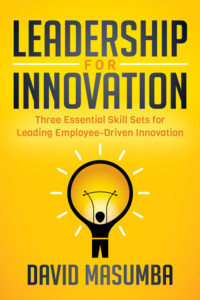 NEW YORK—July 2, 2019—Morgan James's new release, Leadership for Innovation: Three Essential Skill Sets for Leading Employee-Driven Innovation by David Masumba, offers tools that all levels of organizational leaders across industries, individuals aspiring to assume leadership roles, and undergraduate/graduate students can apply to develop essential innovation skill sets required to build climate for innovation in organizations.
Studies have revealed that although organizations desire to make innovation every employee's responsibility, the major challenge is how to create a climate where every employee across functional units is involved in advancing innovation. Employee-driven innovation, as stated elaborately in Leadership for Innovation, does not happen naturally, or by relying on traditional management tools and approaches. Organizational leaders must possess the necessary innovation skills to develop and implement crosscutting innovation-support systems and practices to create a climate for innovation in their organizations.
For college and university students, a corporate world where they are expected to contribute to innovation awaits them. Leadership for Innovation offers essential innovation tools, approaches, and skill sets that enable one to contribute to advancing innovation on an ongoing basis. Within Leadership for Innovation, David Masumba explains what leadership for innovation entails in the context of leading employee-driven innovation; and how workforce innovation can be leveraged to drive profitability, corporate growth, and competitiveness in the organization.
If you would like more information about this topic, or to schedule an interview with David Masumba, please call Nickcole Watkins at 516.900.5674.
About the Author: Based in Walnut Creek, California, David Masumba is a workforce innovation trainer, consultant and author, with experiences in the USA, Europe, Africa & the Caribbean. He has over 10 years of experience focusing on designing workforce innovation-support systems, strategies, and policies aimed at helping companies create climate for innovation. David is the Founder of Innovation Strategy Lab, an innovation training & consulting firm. He did his postgraduate studies at The University of Manchester, University of Leicester, and Swansea University in the United Kingdom.
More About This Title: Leadership for Innovation: Three Essential Skill Sets for Leading Employee-Driven Innovation by David Masumba, will be released by Morgan James Publishing on July 2, 2019. Leadership for Innovation—ISBN 9781642792539—has 314 pages and is being sold as a trade paperback for $19.95.
About Morgan James Publishing: Morgan James publishes trade quality titles designed to educate, encourage, inspire, or entertain readers with current, consistent, relevant topics that are available everywhere books are sold. (www.MorganJamesPublishing.com)
# # #