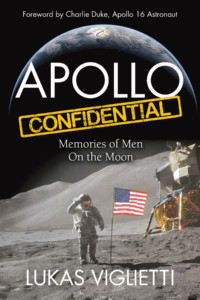 NEW YORK—July 2, 2019—Morgan James's new release, Apollo Confidential: Memories of Men On the Moon, by Lukas Viglietti, is an exciting, exclusive and unprecedented insight into the adventures of those who left footprints on the Moon over 50 years ago. Lukas Viglietti, an airline pilot and captain, has been fascinated by the conquest of space since childhood and motivated to record their testimonies. Having become their friend and confidant, Viglietti offers history buffs an in-depth look at the lives of these astronauts.
Throughout Apollo Confidential, Lukas Viglietti provides detailed accounts of journeys from the Earth to the Moon, as well as personal stories from astronauts who have accomplished this feat. Viglietti shares the experiences of twelve astronauts who walked the surface of the moon between 1969 and 1972, allowing those interested in history and space travel to learn and be inspired by the lives of these men.
Lukas Viglietti encourages space travel enthusiasts to apply the successes and trials within these stories to their own lives. He recorded these accounts for individuals looking to be inspired by tales of courage, reaching goals, and chasing dreams. Apollo Confidential emphasizes that space travel should not be looked at with dismissal, relegated to the past as a season of romantic, unrealistic exploration, but that is should be pursued today, for the advancement and survival of the human race.
If you would like more information about this topic, or to schedule an interview with Lukas Viglietti, please call Nickcole Watkins at 516.900.5674.
About the Author: Lukas Viglietti is an airline pilot and captain. He flies long haul flights for SWISS airlines which allows him to regularly meet and get close to many key participants in the Apollo program. In 2009, together with his wife, Bettina, he founded SWISSAPOLLO in order to organize events inspiring people with the testimonies of the Apollo Astronauts. He has written press articles and organized many shows with Apollo astronauts in Europe. He is the initiator and producer of the show "Apollo 11". Lukas currently resides in Switzerland.
More About This Title: Apollo Confidential: Memories of Men On the Moon, by Lukas Viglietti, will be released by Morgan James Publishing on July 2, 2019. Apollo Confidential—ISBN 9781642795868—has 242 pages and is being sold as a trade paperback for $17.95
About Morgan James Publishing: Morgan James publishes trade quality titles designed to educate, encourage, inspire, or entertain readers with current, consistent, relevant topics that are available everywhere books are sold. (www.MorganJamesPublishing.com)
# # #