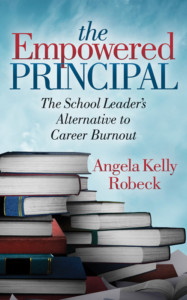 NEW YORK—October 22, 2019—Morgan James's new release, The Empowered Principal: The School Leader's Alternative to Career Burnout, by Angela Kelly Robeck, is a brave undertaking of a topic many people are not willing to talk about: stamina and emotional resiliency for educators. As a former school leader and teacher, Angela Kelly Robeck helps principals who feel discouraged at the lack of control they feel over their job and personal life, allowing them to find a new perspective on working to exhaustion, saying yes when they don't want to, and completely dreading going to work each day.
The Empowered Principal is a guide for principals who are newer to the field, who may feel overwhelmed by the responsibility they have taken on as a school leader. Angela Robeck understands the frustration of newly appointed principals, describing the difficulty of meeting federal and state regulations, district policies, parental pressures, and societal expectations that are all higher than ever, tempting many principals to consider alternate livelihoods. Robeck shares how to manage the overwhelming stress of school leaders through practical tips for working each day with joy and accomplishment.
As firsthand advice from a former principal, The Empowered Principal supports educators as they question their future in the profession. Angela Robeck explains why school leaders stay in their jobs, how to confidently stay or peacefully leave the profession, and why educators are afraid to speak up. Robeck offers a frank assessment for principals to determine whether they should confidently stay in the job despite feelings of burnout or peacefully leave with no regrets. She provides relief for educators, explaining how they have the power and ability to adjust their approach from a place of defeat to one of empowerment, through mindfulness of their thoughts and emotional state.
If you would like more information about this topic, or to schedule an interview with Angela Kelly Robeck, please call Nickcole Watkins at 516.900.5674.
About the Author: Angela Kelly Robeck is a Certified Coach in Educational Leadership. She is a former teacher and school administrator and founded Angela Kelly Coaching. She specializes in helping school leaders become empowered and resilient. Angela offers individualized and group coaching programs, seminars, retreats, books, and speaking engagements to educators. Angela lives in sunny Santa Cruz, CA with family.
More About This Title: The Empowered Principal: The School Leader's Alternative to Career Burnout, by Angela Kelly Robeck, will be released by Morgan James Publishing on October 22, 2019. The Empowered Principal—ISBN 9781642793888—has 148 pages and is being sold as a trade paperback for $14.95.
About Morgan James Publishing: Morgan James publishes trade quality titles designed to educate, encourage, inspire, or entertain readers with current, consistent, relevant topics that are available everywhere books are sold. (www.MorganJamesPublishing.com)
 # # #