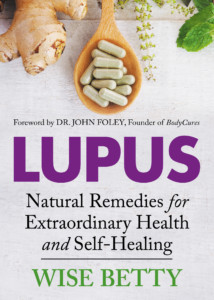 NEW YORK—October 22, 2019—Morgan James's new release, Lupus: Natural Remedies for Extraordinary Health and Self-Healing, by Wise Betty, offers a life-changing approach to help those with Lupus and other autoimmune diseases. Lupus shares Wise Betty's #MeNow movement to not only help those with Lupus find their path to ultimate healing and success in their health and well-being, but also to learn the best natural practices from those who have traveled the road ahead of them.
Wise Betty understands that being diagnosed with Lupus can be confusing and terrifying, especially if following a doctor's instructions doesn't yield the desired results. As someone who has lived with Lupus throughout her adult life, Wise Betty has learned of many natural remedies that have led her to full remission. Lupus details those remedies for anyone with Lupus or another autoimmune diseases, while also inviting them to take part in Wise Betty's #MeNow community, a self-healing movement bringing together patients walking similar paths of self-healing.
In Lupus, patients learn why it's called "the disease of a thousand faces," why most people with Lupus never heal their symptoms, what science and evidence-based medicine suggest, and how to find long-lasting results when battling Lupus symptoms. Wise Betty describes many lifestyle changes that can assist in symptom improvement and eventual healing, such as daily mindfulness practices and relaxation techniques. She teaches nutrition as a way to walk into remission, and offers up healthy home routines to maximize a patient's entire well-being.
If you would like more information about this topic, or to schedule an interview with Wise Betty, please call Nickcole Watkins at 516.900.5674
About the Author: Wise Betty is dedicated to helping Lupus and autoimmune patients live a healthier, more fulfilling life by guiding them through ancient remedies, natural medicinal foods, and supplements for healing. She is the creator and founder of the #MeNow movement and brings her knowledge and life experiences to her clients through her book, seminars, speaking engagements, and retreats. Wise lives with family in upstate New York
More About This Title: Lupus: Natural Remedies for Extraordinary Health and Self-Healing, by Wise Betty, will be released by Morgan James Publishing on October 22, 2019. Lupus—ISBN 9781642793932—has 132 pages and is being sold as a trade paperback for $12.95.
About Morgan James Publishing: Morgan James publishes trade quality titles designed to educate, encourage, inspire, or entertain readers with current, consistent, relevant topics that are available everywhere books are sold. (www.MorganJamesPublishing.com)
 # # #