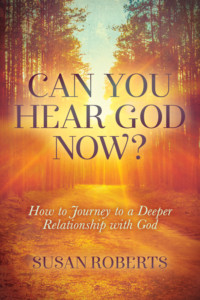 NEW YORK—July 30, 2019—Morgan James's new release, Can You Hear God Now? How to Journey to a Deeper Relationship with God, by Susan Roberts, explores how God can speak to Christians through prayer, providing specific insight and guidance into their daily lives. Susan Roberts surveyed hundreds of people from various backgrounds, religious affiliations, genders, and ages, from twenty-four states and three foreign countries, to determine if they communicate with God, and how they expect to hear His message. Can You Hear God Now? combines the personal experiences of those surveyed with Biblical principles to encourage Christians to develop their own two-way communication with God, making their spiritual lives come alive.
The majority of those surveyed in Can You Hear God Now? believe that God does speak to people today, but few know how to actively seek the voice of God themselves. Susan Roberts encourages Christians to study how they communicate with God in prayer, examining what language is used and what intention in applied when they request an audience with God. Roberts believes that, once Christians learn how to regularly seek drawing close to God, they see how asking for God's will, rather than their own, can impact their prayer life. She emphasizes the importance of understanding how God loves his creation and desires to have a relationship with them.
Susan Roberts warns Christians against trusting well intentioned advice, even if it comes from a fellow believer, but to check that advice against what they know to be true in the Bible and in their heart. Roberts emphasizes how important it is to wait on the right word from God, rather than to rush a decision out of impatience, and she outlines a balanced approach to reading scripture daily in order to more accurately hear God's voice. She discusses the crucial nature of Biblical truth, and how informative it is to see God's point of view in action, to see if the same approach should be applied to a situation in today's world.
If you would like more information about this topic, or to schedule an interview with Susan Roberts, please call Nickcole Watkins at 516.900.5674.
About the Author: Susan Roberts grew up in Massachusetts, one of four children. She attended Wheaton College in Illinois, where she received a BA in English and secondary education, and later an MA in Interdisciplinary Studies including Christian Education and Communication and retired after twenty years with the Jefferson County School District as an administrative assistant. As a military wife, Sue was active in the Post Chapel programs as a board member of PWOC (Protestant Women of the Chapel). Susan and her husband live in Arvada, CO for the past 25 years and attend Arvada Covenant Church.
More About This Title: Can You Hear God Now? How to Journey to a Deeper Relationship with God, by Susan Roberts, will be released by Morgan James Publishing on July 30, 2019. Can You Hear God Now?—ISBN 9781642792362—has 234 pages and is being sold as a trade paperback for $16.99.
About Morgan James Publishing: Morgan James publishes trade quality titles designed to educate, encourage, inspire, or entertain readers with current, consistent, relevant topics that are available everywhere books are sold.(www.MorganJamesPublishing.com)
 # # #