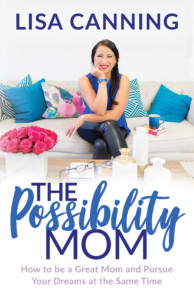 NEW YORK—July 16, 2019—Morgan James's new release, The Possibility Mom: How To Be a Great Mom and Pursue Your Dreams at the Same Time, by Lisa Canning, helps moms to be less stressed, feel less guilt, and get more done while chasing their dreams. As an experienced interior designer and lifestyle expert, Lisa Canning shows moms not only what is possible, but how to design those possibilities themselves. The Possibility Mom provides  solutions to trim the to-do list, clarify priorities, get more done in less time, and to ultimately live a life they love and design themselves.
The Possibility Mom serves as a handbook for moms who want to succeed at work and at home, featuring strategies for busy moms to thrive, instead of just survive. Lisa Canning is a working mother of six who understands that modern motherhood is a demanding, tough job, where succeeding at work may cause mothers to feel like they're failing at home, and vice versa. Canning honestly shares her feelings of shame and guilt as a "mompreneur," caused primarily by valuing societal expectations over her own needs, and the needs of her family. She does make the case that work should not be the top priority in a mother's life, but it should be beneath a woman's marriage, children, and her own health, in order to live a well balanced life.
In The Possibility Mom, Lisa Canning goes in depth of how to make a burgeoning entrepreneur's dreams into reality. Canning emphasizes the importance of progress over perfection, as well as the essential power of saying no to some things, in order to make room for better opportunities. She provides worksheets and exercises throughout The Possibility Mom for mothers to better understand and map out their future family and career goals. Canning also encourages women to visualize their most authentic selves when making these plans, and to dream big, without letting concerns of money, experience, or circumstance get in their way.
If you would like more information about this topic, or to schedule an interview with Lisa Canning, please call Nickcole Watkins at 516.900.5674.
About the Author: Lisa Canning is an interior designer and lifestyle expert who helps moms design their lives and their homes around what matters most. Lisa has become a recognizable face in the interior design and entertainment industry, as the designer on HGTV's Marriage Under Construction, working on the design team of The Property Brothers, and hosting regular live lifestyle segments on shows like The Marilyn Denis Show. Lisa lives in Toronto, Canada with her husband and six young children, where people will find the coffee pot is always on.
More About This Title: The Possibility Mom: How To Be a Great Mom and Pursue Your Dreams at the Same Time, by Lisa Canning, will be released by Morgan James Publishing on July 16, 2019. The Possibility Mom—ISBN 9781642792645—has 184 pages and is being sold as a trade paperback for $16.95.
About Morgan James Publishing: Morgan James publishes trade quality titles designed to educate, encourage, inspire, or entertain readers with current, consistent, relevant topics that are available everywhere books are sold. (www.MorganJamesPublishing.com)
 # # #