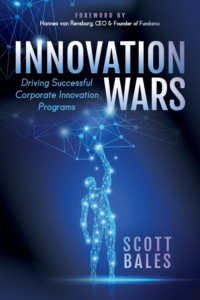 NEW YORK—July 16, 2019—Morgan James's new release, Innovation Wars: Driving Successful Corporate Innovation Programs, by Scott Bales, guides business leaders through a journey of self-reflection, curiosity, and new pathways on their way to experimentation, strategic optionality, and value proposition discovery. As a technology and innovation guru, Scott Bales provides business leaders with new tools, designs, and frameworks to steer their organization towards success. Innovation Wars looks at the models of successful organizations like Uber, AirBNB, and Amazon in order to map out a strategic roadmap to success.
Innovation has become a hot topic in boardrooms over the past few years, as 65% of organizations report it to be a strategic priority, and a rising number of organizations have announced intentions to launch innovation labs or partner with nimbler organizations to the pursuit of adjacent or new value. Around the globe, organizations fight to drive business and market success in the face of nimbler and more aggressive competition. Scott Bales provides an honest look at the world's business climate, describing it as a battlefield of attempts, with failures caused by uninformed decisions, and successes modeled after smart, modern strategies.
According to Innovation Wars, the modern economy brings a multitude of challenges for organizations. Digital culture has taken over as a prime driver of consumer behavior, startups are continuously disrupting traditional industries, and organizations are going out of business. Opportunities are quickly snapped up by Silicon Valley entrepreneurs or organizations that have built more agile cultures and capabilities.
Scott Bales provides business leaders with practical tools they can apply in their current organization, to reduce the guess work in strategy and market success. He explains how to follow the successful examples of online powerhouses like Amazon by finding new ways to solve old problems, unlocking market frustration, and optimizing customer convenience to new levels.
If you would like more information about this topic, or to schedule an interview with Scott Bales, please call Nickcole Watkins at 516.900.5674.
About the Author: After a decade of working in the Australian banking sector, Scott Bales's life journey took him to India and Cambodia where he sought to develop alternative strategies to business and product development that were fit for purpose. He later joined the founding team at Moven, the world's first fully digital bank. Since, Scott has built a reputation as a complex problem solver by helping companies navigate the shift to digital with his advisory firm, Innovation Labs Asia. Scott has a Bachelor of Applied Science and a Master of Business and contributed to Next Gen Finance and Bank 3.0 before publishing his first book, Mobile Ready. He is originally from Melbourne, Australia, but currently resides in Singapore.
More About This Title: Innovation Wars: Driving Successful Corporate Innovation Programs, by Scott Bales, will be released by Morgan James Publishing on July 16, 2019. Innovation Wars—ISBN 9781642792409—has 250 pages and is being sold as a trade paperback for $16.95.
About Morgan James Publishing: Morgan James publishes trade quality titles designed to educate, encourage, inspire, or entertain readers with current, consistent, relevant topics that are available everywhere books are sold. (www.MorganJamesPublishing.com)
 # # #