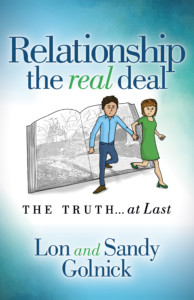 NEW YORK—August 6, 2019—Morgan James's new release, Relationship: The Real Deal: The Truth at Last, by Lon and Sandy Golnick, returns couples to the freedom, ease, and satisfaction of healthy relationships by revealing the real causes of communication breakdowns and misunderstandings. As the Founders of RelationshipByDesign™, Lon and Sandy Golnick are determined to guide couples on a journey through their personal experiences, rather than feeding them data from endless unrelated studies. Relationship: The Real Deal is an opportunity for couples to break free of relationship killers and experience freedom—a pathway for creating new relationship unfettered by the past.
Lon and Sandy Golnick believe that participating in relationships is a critical component of the human experience, fundamental to an individual being known, valued, and fulfilled. In Relationship: The Real Deal, couples will discover how they were destined to experience disappointments, upsets, and frustrations in a relationship and why their attempts to improve, fix, or change their partner and themselves might exacerbate those problems. Lon and Sandy unpack hidden truths about the nature and design of relationship and illuminate previously unseen mechanisms that undermine all relationships.
In straightforward, lighthearted language, Relationship: The Real Deal, is an entertaining exploration of the nature of relationships. Lon and Sandy Golnick's approach can work for adults in a variety of situations, from those experiencing issues while dating, to those working to repair their marriage, to those learning how to move on after divorce. Lon and Sandy reveal common causes of problems in a relationship, identify the importance of working together, rather than name-calling, and unburdens couples from "what-you-should-do" lists. They are focused on offering couples relief from the struggle and conflict in relationships, in order to open the door to everyday peace.
If you would like more information about this topic, or to schedule an interview with Lon and Sandy Golnick, please call Nickcole Watkins at 516.900.5674.
About the Author: Lon and Sandy Golnick are the co-founders of RelationshipbyDesign and have been leading workshops, seminars and trainings in the fields of relationships, families and business relations for over 40 years. Together, Lon and Sandy bring 53 years of marriage and experience as parents and grandparents to the table. Lon was an aerospace engineer for a dozen years before being trained to lead and then leading programs for adults in the same educational company. Before devoting herself to transforming relationships and families, Sandy was an elementary school teacher and the division manager for young persons' programs for a world-wide educational company. Both Lon and Sandy currently reside in San Marcos, California.
More About This Title: Relationship: The Real Deal: The Truth at Last, by Lon and Sandy Golnick, will be released by Morgan James Publishing on August 6, 2019. Relationship: The Real Deal—ISBN 9781642793024—has 100 pages and is being sold as a trade paperback for $9.95.
About Morgan James Publishing: Morgan James publishes trade quality titles designed to educate, encourage, inspire, or entertain readers with current, consistent, relevant topics that are available everywhere books are sold. (www.MorganJamesPublishing.com)
 # # #