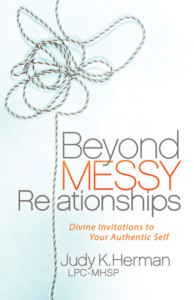 NEW YORK—September 10, 2019—Morgan James's new release, Beyond Messy Relationships: Divine Invitations to Your Authentic Self, by Judy K. Herman, shows readers how to be resilient through struggles of relationship trauma and conflicts. The book contains psychological insights and spiritual perspectives to enact transformational change. Judy K. Herman writes with clinical expertise from her work as a licensed professional counselor, while also revealing personal struggles within her marriages. Readers gain insights into their own journey through her experiences of toxic patterns and seasons of her second husband's psychotic episodes. Written with purposeful themes in story form, Beyond Messy Relationships demonstrates and helps readers find their authentic journey with the formula AIR—Awareness, Intentionality, and Risks.
Judy K. Herman reveals divine purpose beyond the pain of messy relationships. She provides resources for individuals or spouses to nurture wellness and resilient relationships. As a mental health service provider, Herman normalizes challenges of insecurities as prerequisites toward growing identity and purpose. In her memoir, Beyond Messy Relationships, Herman shows patterns from early development to awareness of attitudes that ultimately doom marriages. Scenes include post-divorce, remarriage, mental illness, pregnancy loss, parenting, loyalty, betrayal, adult-child relationships, and religious dogma. She de-stigmatizes mental illness while differentiating it from covert emotional abuse.
Beyond Messy Relationships presents a simple, yet challenging way to heal and thrive through the acronym AIR: Awareness, Intentionality, and Risks. This formula helps readers increase self-compassion and identify relationship "dance" patterns from family of origin to present marital confusion. With awareness, readers can be intentional to plan for needed risk-taking toward change and growth. Those struggling in long-term marriages or other relationship challenges are reminded to breathe in truth of their innate value, dignity, and worth in order to reject shame and embrace growth on their authentic journey.
For more information about this topic, or to schedule an interview with Judy K. Herman, please call Nickcole Watkins at 516.900.5674.
About the Author: Judy K. Herman, LPC-MHSP is a licensed professional counselor and mental health service provider and a National Certified Counselor. Specializing in relationships, she helps counselors and leaders create connections beyond conflict in their own familial relationships so they can pursue their calling to serve clients from a place of vibrant authenticity. Although her formative years were spent in Champaign, Illinois, Judy graduated from Bryan College in Dayton, Tennessee and settled in Flintstone, a rural town in North Georgia with her counseling practice in Chattanooga, Tennessee.
More About This Title: Beyond Messy Relationships: Divine Invitations to Your Authentic Self, by Judy K. Herman, will be released by Morgan James Publishing on September 10, 2019. Beyond Messy Relationships—ISBN 9781642793215—has 252 pages and is being sold as a trade paperback for $16.95.=
About Morgan James Publishing: Morgan James publishes trade quality titles designed to educate, encourage, inspire, or entertain readers with current, consistent, relevant topics that are available everywhere books are sold. (www.MorganJamesPublishing.com)
 # # #