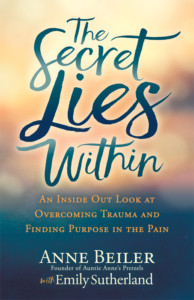 NEW YORK—September 10, 2019—Morgan James' new self-help book release, The Secret Lies Within: An Inside Out Look at Overcoming Trauma and Finding Purpose in the Pain by Anne Beiler and Emily Sutherland, shows readers how to use the power of confession to finally push past the pain that is weighing them down. The Secret Lies Within was written for anyone who is still feeling the pain of a traumatic life experience.
After experiencing overwhelming pain in their lives, people often have a tendency to keep it to themselves and hold it as a buried secret. However, hiding the pain and shame of traumatic experiences is one of the unhealthiest ways to deal with them. The Secret Lies Within shows these people a better way—a way that relies upon the strength of people together, rather than alone.
The Secret Lies Within was written by Anne Beiler, who is known by many for founding the international franchise Auntie Anne's Pretzels. However, many people do not know her tragic journey, which includes losing a child, being abused, and living with the trauma from those experiences for years after. Anne Beiler not only shares her personal story in detail, but also the way she finally overcame it and broke free of her pain. Through The Secret Lies Within, readers are encouraged to break the silence and find strength and relief in sharing their struggles with others.
If you would like more information about this topic, or to schedule an interview with Anne Beiler, please call Nickcole Watkins at 516.900.5674.
About the Author: Anne Beiler is an entrepreneur and author best known as the founder of the world's largest pretzel franchise, Auntie Anne's Pretzels. Before The Secret Lies Within, Anne also wrote the business memoir, Twist of Faith, and the children's book, Auntie Anne: My Story. Anne's books, personal story, and entrepreneurial knowledge have led her to be featured on many television shows and publications. These include The Oprah Winfrey Show, Good Morning America, Fortune Magazine, Entrepreneur Magazine, and many more. Anne currently lives in Salado, Texas, but spent much of her life in Lancaster, Pennsylvania.
More About This Title: The Secret Lies Within: An Inside Out Look at Overcoming Trauma and Finding Purpose in the Pain by Anne Beiler and Emily Sutherland will be released by Morgan James Publishing on September 10, 2019. The Secret Lies Within—ISBN 9781642793116—has 194 pages and is being sold as a trade paperback for $15.95
About Morgan James Publishing: Morgan James publishes trade quality titles designed to educate, encourage, inspire, or entertain readers with current, consistent, relevant topics that are available everywhere books are sold. (www.MorganJamesPublishing.com)
# # #