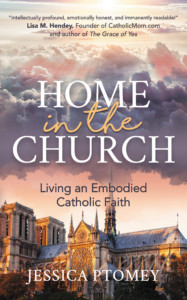 NEW YORK—May 26, 2019—Morgan James' new release, Home in the Church: Living an Embodied Catholic Faith by Jessica Ptomey, helps Catholics live a more embodied faith by bringing modernized Catholicism back to its roots. Home in the Church was written for both new and old Catholics that want to fully live out their faith.
Jessica Ptomey understands that modern Catholics feel increasingly obligated to adapt their practices to the modern culture, which has weakened their faith over time. Ptomey claims that the Catholicism practiced today has lost many of its traditions, and this stripped-down version does not allow people to experience a fully Catholic way of living. Home in the Church reinvigorates the original Catholic way of life, one that engages the body, mind, and soul.
In Home in the Church, author and Catholic convert Jessica Ptomey describes her spiritual journey in a powerful story that will help others discover many aspects of Catholicism they may have forgotten or never learned in the first place. Ptomey addresses the liturgy, teachings, and traditions of the Catholic church while also showing readers how to apply it to their lives. Through Home in the Church, Catholics will regain the original vision of the church and learn how to experience the fullness of their faith in the modern world.
If you would like more information about this topic, or to schedule an interview with Jessica Ptomey, please call Nickcole Watkins at 516.900.5674.
About the Author: Jessica Ptomey is a Communications professor and Catholic blogger who enjoys writing about topics such as communication, faith, and education. Jessica received her B.A. in Communications from Bryan College before gaining her M.A. in Journalism and Ph.D. in Communication Studies from Regent University. Jessica and her husband, Mike, converted to Catholicism in 2013 and now host The Catholic Reading Challenge podcast. Jessica also writes for CatholicMom.com and JoyInTruth.com, and currently lives in Bowie, Maryland, with her husband and four children.
More About This Title: Home in the Church: Living an Embodied Catholic Faith by Jessica Ptomey will be released by Morgan James Publishing on May 26, 2020. Home in the Church— ISBN 9781642797084—has 170 pages and is being sold as a trade paperback for $14.95
About Morgan James Publishing: Morgan James publishes trade quality titles designed to educate, encourage, inspire, or entertain readers with current, consistent, relevant topics that are available everywhere books are sold. (www.MorganJamesPublishing.com)