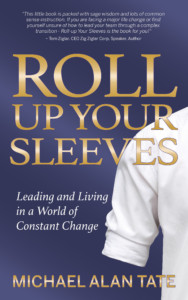 NEW YORK—May 26, 2020—Morgan James' new release, Roll Up Your Sleeves: Leading and Living in a World of Constant Change, by Michael Alan Tate, is a parable about overcoming the obstacles of loss and change in the workplace. Roll Up Your Sleeves demonstrates how to implement flexible leadership strategies that work with the stress of change, rather than breaking under its weight.
With over 20 years of executive training and business experience, Michael Alan Tate knows what strategies will benefit workplace productivity and improve team connections. Tate wrote Roll Up Your Sleeves to be an inspirational story of leadership overcoming struggles in the wilderness of change. He understands how frequently an organization can be affected by reorganization or restructuring due to a merger, acquisition, technology change, leadership change, or downsizing. Through the characters in Roll Up Your Sleeves, Tate teaches leaders how to modify their work environment so that it can withstand difficult transitions while supporting the needs of its workers.
Roll Up Your Sleeves tells the story of Cyrus, an advisor to the king, and how he and others adjust to loss and the changing demands of their roles in leadership. Michael Alan Tate believes that how one responds to change is the direct result of the emotional and behavioral choices one makes. Tate wrote Roll Up Your Sleeves to show a better way for an individual to adjust to change, whether they are in a position of leadership or not. He hopes to inspire others to adjust their responses to change in a healthy way, one that progresses a community, and possibly a company, forward.
If you would like more information about this topic, or to schedule an interview with Michael Alan Tate, please call Nickcole Watkins at 516.900.5674
About the Author: Michael Alan Tate is founder of On the Same Page Consulting. For more than 20 years, Michael has facilitated common-sense strategies that get executives and their teams on the same page. He also designs whole-life plans for professionals who are facing a significant life/work change. He has authored three books: Design a Life that Works, The White Shirt, and Roll up Your Sleeves. Michael writes the "Leadership and Life Journal" blog and hosts the podcast "Small-time Leaders" where he interviews successful people about significant individuals who did a small thing that made a HUGE impact on their life and career. He is a graduate of University of Alabama at Birmingham and Southern Seminary in Louisville, Kentucky. Michael and his wife, Patricia, reside in Gardendale, Alabama.
More About This Title: Roll Up Your Sleeves: Leading and Living in a World of Constant Change, by Michael Alan Tate, will be released by Morgan James Publishing on May 26, 2020. Roll Up Your Sleeves —ISBN 9781642799767 —has 132 pages and is being sold as a trade paperback for $14.95.
About Morgan James Publishing: Morgan James publishes trade quality titles designed to educate, encourage, inspire, or entertain readers with current, consistent, relevant topics that are available everywhere books are sold.
( www.MorganJamesPublishing.com )