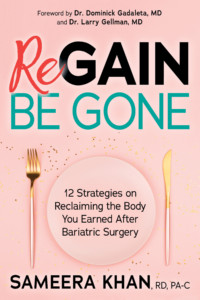 NEW YORK—March 17, 2020— Morgan James' new release, Regain Be Gone: 12 Strategies to Maintain the Body You Earned After Bariatric Surgery, by Sameera Khan, shares strategies for bariatric surgery recipients to reduce and maintain their weight. Khan uses the knowledge and experience she gained from her medical profession as a Physician Assistant and Dietitian to teach a balanced, stress-free weight loss journey. Using real patient stories, she shows how weight regain is manageable with the right guidance and effort while learning how to make lifestyle changes with permanent results while building a sustainable relationship with food. 
Regain Be Gone reverses the setback of weight regain in a way that enhances confidence, proves successful, and empowers post bariatric surgery recipients. According to Sameera Khan, regaining weight is easy and difficult to keep off.  She explains that ignoring the weight gain is never the answer. Rather, taming hunger and conquering every challenge that the "maintenance phase" brings can be confronted with Khan's tips and tricks on snacking smart while overcoming cravings. 
Creating time for exercise is a habit that Sameera Khan is excited for others to establish. When weight plateaus, she motivates those struggling with weight gain to make healthy choices and repress triggers to overeating. Khan knows that the honeymoon phase is a dangerous and tempting period where relapse wins. In Regain Be Gone, Sameera Khan educates bariatric surgery recipients to set clear goals, whether they are to lose weight, build muscle, increase energy, sleep better, or develop a healthy relationship with food. 
If you would like more information about this topic, or to schedule an interview with Sameera Khan, please call Nickcole Watkins at 516.900.5674.
About the Author: Sameera Khan is a Physician's Assistant and Registered Dietitian in the field of Bariatrics. She specializes in helping patients lose regained weight after bariatric surgery. With a bachelor's in nutrition and in Physician Assistant studies along with a master's in healthcare management, Sameera taught nutrition at a local community college. She has spent the last 15 years of her career as a bariatric coordinator for large health care systems and has worked with hundreds of bariatric patients. Sameera currently resides on Long Island in New York.
More About This Title: Regain Be Gone: 12 Strategies to Maintain the Body You Earned After Bariatric Surgery by Sameera Khan, will be released by Morgan James Publishing on March 17, 2020. Regain Be Gone—ISBN 9781642795837—has 240 pages and is being sold as a trade paperback for $17.95. 
About Morgan James Publishing: Morgan James publishes trade quality titles designed to educate, encourage, inspire, or entertain readers with current, consistent, relevant topics that are available everywhere books are sold. 
( www.MorganJamesPublishing.com )
# # #