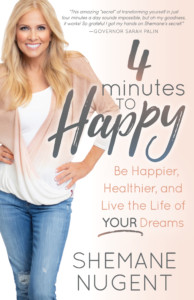 NEW YORK—March 10, 2020— The new release by Morgan James Publishing called 4 Minutes to Happy: Be Happier, Healthier and Live the Life of Your Dreams, by Shemane Nugent, is a self-advocating and revitalizing journey that shares the true struggles of illness discovery to life recovery. The creation of joy in life can be achieved by anyone looking to build a stronger connection with their faith in God, to find a purpose and to have balance within their everyday lives through fitness. Putting aside the tendencies of taking care of others, before oneself, is necessary and achievable. Guidance is given that helps rediscover an authentic sense of self while setting a regimen for a healthy lifestyle. 
4 Minutes to Happy encourages followers to laugh and reflect with journal writing and asking oneself: "Is this as good as it gets?" Seeking to fulfill life's purpose can be daunting and often lead to deprecating self-talk. Taking four minutes to revitalize body, mind and soul can exponentially improve self-worth, mental and physical health as well as the joy of love, life and God. Nugent can attest to this with her real life journey that she shares and builds her own life strategies and shares for anyone who wants to grow and fall in love with their lives all over again. Healing strategies for the mind, body and soul can be learned while sharing a love for fitness and unique perspective of quality of life.
According to Shemane Nugent, taking four minutes a day to relax and refresh is an achievable technique that eliminates toxins, while incorporating a healthy and achievable fitness technique that encourages a better lifestyle and greater self-awareness. Opportunities for reflection are necessary and should be taken often when looking for happiness and life purpose. Nugent has provided a light and refreshing insight derived from her own health and happiness experiences that is used to reduce stress and provide a healthy transformation while challenging others to stick with encouraging their self-worth and stay focused on their happiness. 
If you would like more information about this topic, or to schedule an interview with Shemane Nugent, please call Nickcole Watkins at 516.900.5674.
About the Author: Shemane Nugent is a TV producer, motivational speaker, fitness instructor, and life coach who is working towards carving a path of enlightenment to help guide others who are seeking an abundant life. She has appeared on MTV, VH1, Discovery, Entertainment Tonight, C-Span, FOX news, CMT, Outdoor Channel, MSNBC and many other national and international radio and TV shows. After discovering her home was contaminated with toxic mold and having debilitating health consequences, Shemane dedicated her life to healing herself, her husband (rocker Ted Nugent), and their son through alternative remedies. She obtained a master's degree in Metaphysics to deepen her awareness of the importance of emotional well-being and the physiological effect of stress. Shemane currently lives in China Spring, Texas with her family.
More About This Title: 4 Minutes to Happy: Be Happier, Healthier, and Live the Life of Your Dreams by Shemane Nugent, will be released by Morgan James Publishing on March 10, 2020. 4 Minutes to Happy —ISBN 9781642795899—has 160 pages and is being sold as a trade paperback for $14.95. 
About Morgan James Publishing: Morgan James publishes trade quality titles designed to educate, encourage, inspire, or entertain readers with current, consistent, relevant topics that are available everywhere books are sold. 
( www.MorganJamesPublishing.com )
 # # #