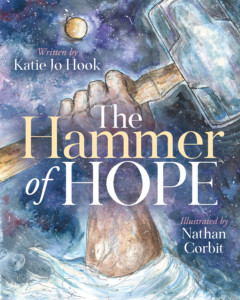 NEW YORK—September 17, 2019—Morgan James's new release, The Hammer of Hope, by Katie Jo Hook, is a stunning portrayal of God's redemptive story for his creation. As an educator, Katie Jo Hook understands the importance of teaching children about the Gospel during their formative years. The Hammer of Hope fosters young readers' need for Christ, featuring themes of relying on Christ and overcoming the odds to emphasize the power of God's redemptive grace.
Throughout The Hammer of Hope, Katie Jo Hook explains that God used common people and tools throughout history to change the world. Katie Jo Hook shares that message with younger children by linking various biblical stories with the symbolism of a humble hammer. Hook pairs the story of Noah and the flood with the prophecies and life of Jesus Christ, including the message of Jesus' death and resurrection appropriately for children between the ages of 6-12 years old. Parents will enjoy sharing the message within its pages with their children, as it will start a conversation about the Gospel and God's plan.
Each page of The Hammer of Hope is beautifully detailed, with vibrant colors and hand-sketched illustrations complimenting the rhyming lines of the story. Within it's unique format, Katie Jo Hook emphasizes that everyone and everything is significant in God's redemptive plan. She encourages children to pray and study the Bible, in order to learn more about God and to draw closer to him. Hook also motivates children to share the stories they've read, so that others can know God the way they do.
If you would like more information about this topic, or to schedule an interview with Katie Jo Hook, please call Nickcole Watkins at 516.900.5674
About the Author: Katie Jo Hook is a graduate of Murray State University where she double majored in Elementary Education and Special Education. She grew up as a preacher's kid and lived in a ministry where she saw the grace of Jesus Christ change lives. After teaching special education and having three children of her own, God is continuing to use her life to tell people about what Christ can do in them. She currently resides in Vienna, Illinois.
Nathan Corbit is an artist native to Southern Illinois. He received his bachelor's degree in art education at Southern Illinois University and his master's degree from the University of Nebraska. He lives in a small community with his wife and three children in Vienna, Illinois. Along with making art, he also teaches at the local school.
More About This Title: The Hammer of Hope, by Katie Jo Hook, will be released by Morgan James Publishing on September 17, 2019. The Hammer of Hope—ISBN 9781642793239—has 40 pages and is being sold as a trade paperback for $10.99.
About Morgan James Publishing: Morgan James publishes trade quality titles designed to educate, encourage, inspire, or entertain readers with current, consistent, relevant topics that are available everywhere books are sold. ( www.MorganJamesPublishing.com )
 # # #