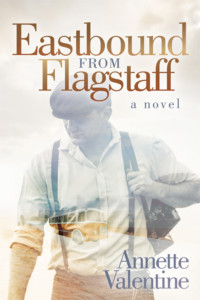 NEW YORK—September 17, 2019—Morgan James Fiction's new book release, Eastbound from Flagstaff by Annette Valentine, is the first part of an epic trilogy that addresses topics such as faith, family, and the human spirit through a determined man's life quest. Eastbound from Flagstaff is a fiction novel written primarily for adult readers.
Eastbound from Flagstaff begins in the 1920's with a man named Simon Hagan. Simon's dreams and determination quickly turn his simple life as a southern farm boy into an exciting ride full of twists and turns. This journey takes him to Michigan and eventually face to face with the Mafia during the Prohibition.
Eastbound from Flagstaff explores what happens when a fulfilling life suddenly spirals out of control. As Simon grapples with this, he begins questioning God, asking, "Why was God silent when I needed him?" When his own strength and perseverance proves insufficient, Simon's understanding of God and the world will be challenged. Throughout Simon's gripping story, readers find encouragement within their own lives.
If you would like more information about this topic, or to schedule an interview with Annette Valentine, please call Nickcole Watkins at 516.900.5674.
About the Author: Annette Valentine is an author, speaker, and former interior designer. After graduating from Purdue University, Annette founded an interior design business that worked with many houses, including a Habitat for Humanity house and even the White House over 34 years. Annette now advocates for human trafficking victims and raises awareness for this and other issues. Annette currently lives in Brentwood, Tennessee.
More About This Title: Eastbound from Flagstaff by Annette Valentine will be released by Morgan James Publishing on September 17, 2019. Eastbound from Flagstaff—ISBN 9781642793345—has 334 pages and is being sold as a trade paperback for $18.95
About Morgan James Publishing: Morgan James publishes trade quality titles designed to educate, encourage, inspire, or entertain readers with current, consistent, relevant topics that are available everywhere books are sold. (www.MorganJamesPublishing.com)
# # #