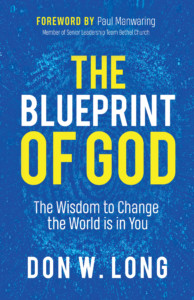 NEW YORK—May 19, 2019—Morgan James' new release, The Blueprint of God: The Wisdom to Change the World is in You by Don W. Long, is a guide that helps Christians to unlock the greatness that God has already placed inside of them. The Blueprint of God was written for anyone that wants to make a significant spiritual impact with their lives.
Don W. Long firmly believes God has placed a blueprint inside the DNA of every one of his children. By partnering with the Father, people can use the gifts God has given them to create an incredible and purposeful future that reaches far beyond what they ever imagined. When their life is in line with God's perfect plan, believers will find the deep, lasting fulfillment that comes from not only following their own dreams, but also impacting others. The Blueprint of God shows individuals how to discover the unique potential that God has set within them.
In The Blueprint of God, author Don W. Long explains how to find one's true identity as a son or daughter of God. Long explains the blessings and responsibilities that God has given to his children, and how they can follow the path God wants for them. The Blueprint of God guides Christians through the process of finding their dreams and desires, connecting them to the blueprint God has created within them, and using them to change their own future, and the future of others, for the better.
If you would like more information about this topic, or to schedule an interview with Don W. Long, please call Nickcole Watkins at 516.900.5674.
About the Author: Don W. Long is an author and entrepreneur with a passion for helping people find their identity and live an impactful life. Long believes that every person was born with a unique DNA and purpose from God and wants to guide people through the process of uncovering it. Don has also found much success in the business world, as he started and sold two multimillion-dollar companies. The first business reached the top 5% in its field, while the second reached the top 1% in its industry in the U.S. before being sold for 8 figures. Don used his experience to write a bestselling book about sales, titled Sell or Don't Eat: How Selling from the Soul Will Keep Food on Your Table. Don currently lives in Apex, North Carolina.
More About This Title: The Blueprint of God: The Wisdom to Change the World is in You by Don W. Long will be released by Morgan James Publishing on May 19, 2020. The Blueprint of God— ISBN 9781642796858—has 164 pages and is being sold as a trade paperback for $16.99
About Morgan James Publishing: Morgan James publishes trade quality titles designed to educate, encourage, inspire, or entertain readers with current, consistent, relevant topics that are available everywhere books are sold. (www.MorganJamesPublishing.com)