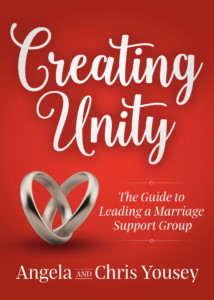 NEW YORK—May 19, 2019—Morgan James' new release, Creating Unity: The Guide to Leading a Marriage Support Group by Angela and Chris Yousey, is a guide for married couples and ministry leaders to learn the best ways to deal with common marriage issues. Creating Unity was written for anyone with a desire to help others with their marriages, whether through counseling or simply leading a support group.
Angela and Chris Yousey understand that marriage can be complicated, and even Christians often struggle with properly managing this relationship. A person's marriage impacts nearly every aspect of their life, and therefore it is important to keep it strong and healthy. However, between parenting, dealing with finances, and understanding the needs of one's spouse, there are many opportunities for miscommunication that can weaken a marriage. Creating Unity uses Biblical principles to help readers build a rewarding, lasting marriage, and teaches others to do the same.
Creating Unity was written by co-pastors Angela and Chris Yousey, who have more than twenty-five years of experience offering Christian marriage counseling. As a result, all of the advice given in this book has proven to work for countless couples. Married couples will find that many of the most common and important issues affecting marriages are addressed in Creating Unity, including finances, parenting, and emotional support. For anyone that is struggling in their marriage or feels a calling to help others develop strong Christian marriages, Creating Unity is a vital resource.
If you would like more information about this topic, or to schedule an interview with Vienna Dunham Schmidt, please call Nickcole Watkins at 516.900.5674.
About the Author: Angela and Chris Yousey are a married couple and co-pastors of Spirit of Love Ministries. Having both experienced a divorce before they met, Angela and Chris gained a passion for helping others restore their marriages. For the past twenty-seven years, they have provided Biblically-based counseling for couples. Angela and Chris' combined family now consists of six sons and six grandchildren. They currently live in Dublin, Ohio, where they continue their ministry.
More About This Title: Creating Unity: The Guide to Leading a Marriage Support Group by Angela and Chris Yousey will be released by Morgan James Publishing on May 19, 2020. Creating Unity— ISBN 9781642797206—has 82 pages and is being sold as a trade paperback for $9.95
About Morgan James Publishing: Morgan James publishes trade quality titles designed to educate, encourage, inspire, or entertain readers with current, consistent, relevant topics that are available everywhere books are sold. (www.MorganJamesPublishing.com)