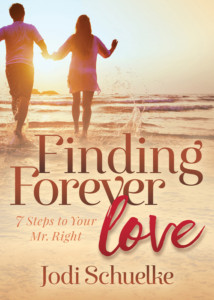 NEW YORK—September 24, 2019—Morgan James's new release, Finding Forever Love: 7 Steps to Your Mr. Right, by Jodi Schuelke, ignites a unique transformation that helps women discover their personal "happily-ever-after. With experience as a relationship expert and coach, Jodi Schuelke provides the perfect dating guidebook that identifies the missing link for women who have been endlessly searching for their dream relationship partner. Finding Forever Love shows women how to date with intention, so they can finally find their Mr. Right and get married.
After discovering her own love story, and helping countless others do the same, Jodi Schuelke shares her personal experiences and revelations in order to encourage other single women to make their dreams come true. Schuelke lays out the seven practical steps of her Forever Framework process so women can transform their dating strategy and find their Mr. Right. In Finding Forever Love, women learn how to stop settling for men who are not the right fit, quickly spot emotionally healthy and stable men, and evaluate a date to see if he's their Mr. Right.
Finding Forever Love fosters self-esteem and empowers women to seek out a partner that will support their needs. Whether a woman is divorced, widowed, or never married, Jodi Schuelke is motivated to help those who are disappointed with the results of their own dating strategies. Schuelke's approach allows women to identify what they are looking for in a future relationship, and offers suggestions for keeping and growing a relationship over time.
If you would like more information about this topic, or to schedule an interview with Jodi Schuelke, please call Nickcole Watkins at 516.900.5674
About the Author: Jodi Schuelke is a certified life coach and author of I Just Want Out and Relationship Detox. Jodi has been featured on The Power Within, Blog Talk Radio, Digital Romance Inc, and GoBankingRates.com. She has presented at local domestic violence centers and high schools. Jodi holds a master's degree in Management and Organizational Behavior with an emphasis in training and development. In addition to coaching, she is an adjunct college professor and corporate trainer. Jodi lives in Neenah, WI, between Green Bay and Milwaukee, with her husband, Dan, her children, step-children, and Echo, their Siberian Husky.
More About This Title: Finding Forever Love: 7 Steps to Your Mr. Right, by Jodi Schuelke, will be released by Morgan James Publishing on September 24, 2019. Finding Forever Love—ISBN 9781642793468—has 124 pages and is being sold as a trade paperback for $9.95.
About Morgan James Publishing: Morgan James publishes trade quality titles designed to educate, encourage, inspire, or entertain readers with current, consistent, relevant topics that are available everywhere books are sold. (www.MorganJamesPublishing.com)
 # # #