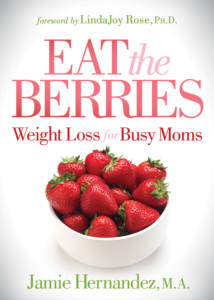 NEW YORK—September 24, 2019—Morgan James's new release, Eat the Berries: Weight Loss for Busy Moms, by Jamie Hernandez, is a comprehensive handbook for mothers looking to lose weight after pregnancy and beyond. As a Certified Holistic Health and Life Coach and Hypnotherapist, Jamie Hernandez has devoted her life to helping busy moms and women make positive, healthy changes. Eat the Berries shares an approach that addresses a woman's mind, body, and spirit, in order to live a healthier life and to lose excess weight.
Jamie Hernandez helps mothers lose weight and feel great, while inspiring their kids to be healthy too. She teaches women how to make small, realistic life changes that fit into their schedule in order to feel better, be more present with their children, and have lasting results. Hernandez discourages specific diets as they are prone to group types of food as good or bad, which can lead to negative, emotional eating, and instead reframes food as nourishment. Within Eat the Berries, she empowers mothers to take care of themselves as they lose weight in a healthy, holistic way.
Eat the Berries guides women through creating an eating plan, finding exercises that work for their lifestyle, and developing healthy habits that will lead them into the life they want to live. Hernandez introduces a 12-week weight loss program that features practical wellness tips and holistic techniques. She discusses meditation, mindfulness, and manifesting future goals as ways to help women achieve their goal weight, along with diet and lifestyle change. Jamie Hernandez encourages mothers to change their mindset and priorities in order to achieve their weight loss goals.
If you would like more information about this topic, or to schedule an interview with Jamie Hernandez, please call Nickcole Watkins at 516.900.5674
About the Author: Jamie Hernandez has two master's degrees, one in psychology and one in counseling, and is a certified holistic health and life coach and hypnotherapist. Her passion lies in helping busy moms live healthy lives in mind, body, and spirit. Jamie lives outside Philadelphia with her four children and two rescue pups.
More About This Title: Eat the Berries: Weight Loss for Busy Moms, by Jamie Hernandez, will be released by Morgan James Publishing on September 24, 2019. Eat the Berries—ISBN 9781642793307—has 106 pages and is being sold as a trade paperback for $12.95.
About Morgan James Publishing: Morgan James publishes trade quality titles designed to educate, encourage, inspire, or entertain readers with current, consistent, relevant topics that are available everywhere books are sold.  (www.MorganJamesPublishing.com)
 # # #