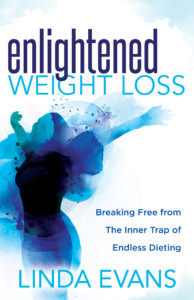 NEW YORK—June 11, 2019—Morgan James' new health book release, Enlightened Weight Loss: Breaking Free from The Inner Trap of Endless Dieting by Linda Evans, introduces those struggling with weight to an entirely new weight loss process that engages the body, mind, and spirit. Enlightened Weight Loss was written for anyone struggling to make lasting changes to their weight.
Anyone that has tried to lose weight knows the frustrations of trying to implement endless dieting plans that never work as promised. Even those that do manage to lose some weight always seem to gain it back. Linda Evans understands all of these problems and uses her experience to introduce a permanent, holistic solution in Enlightened Weight Loss.
Enlightened Weight Loss guides individuals through the ENLIGHTEN Process, which consists of nine transformational steps. Through these steps, individuals are able to identify the source of their eating disorders and the saboteurs in their mind that stop them from keeping their weight off. After gaining a better understand themselves, Enlightened Weight Loss shows individuals how to make long-lasting weight changes while still enjoying their food.
If you would like more information about this topic, or to schedule an interview with Linda Evans, please call Nickcole Watkins at 516.900.5674.
About the Author: Linda Evans is a speaker, self-awareness coach, energy healer, and founder of the Sonoran Light Healing Center. Linda has a passion for helping people become the happiest and healthiest version of themselves, both emotionally and physically. Her work penetrates deep to the heart to transform people from the inside out, and addresses a variety of issues from weight loss to relationships. Linda lives and works in Tucson, Arizona.
More About This Title: Enlightened Weight Loss: Breaking Free from The Inner Trap of Endless Dieting by Linda Evans will be released by Morgan James Publishing on June 11, 2019. Enlightened Weight Loss—ISBN 9781642792126—has 175 pages and is being sold as a trade paperback for $16.95
About Morgan James Publishing: Morgan James publishes trade quality titles designed to educate, encourage, inspire, or entertain readers with current, consistent, relevant topics that are available everywhere books are sold. (www.MorganJamesPublishing.com)
# # #