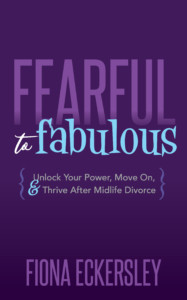 NEW YORK—May 12, 2019—Morgan James' new release, Fearful to Fabulous: Unlock Your Power, Move On, and Thrive After Midlife Divorce by Fiona Eckersley, is a guide that helps women gain control of their life when it is at its most chaotic. Fearful to Fabulous was written for divorced women, particularly those facing a midlife marriage split.
A divorce can seem devastating, especially for a middle-aged woman who has many responsibilities. Aside from the painful emotional impact of divorce, balancing day-to-day life becomes more practically challenging. When much of the support given by their husband is suddenly gone, many mothers see taking care of their family as a daunting task to handle alone. Fearful to Fabulous shows women that they have the power to not only support themselves and their families, but also to build an amazing new life.
In Fearful and Fabulous, author Fiona Eckersley teaches divorced women how to take control over each individual area of their lives. This includes managing finances, dealing with their estranged spouse, and using their passions, among other things. This knowledge was gained from Eckersley's personal experiences as a coach and divorced mother of four. The worries and uncertainty following divorce will soon be replaced with hope and confidence after reading Fearful to Fabulous!
If you would like more information about this topic, or to schedule an interview with Fiona Eckersley, please call Nickcole Watkins at 516.900.5674.
About the Author: Fiona Eckersley is an author, certified coach and Divorce Recovery Expert. As a divorced mother herself, Fiona has a passion for helping other divorced middle-aged women that are struggling with their new reality. At age 45, after 17 years of marriage, Fiona's life was turned upside down by her divorce. She had many mistakes and missteps over the next few years, however these experiences gave her the knowledge that she now uses as a Confidence Coach. Once she finally learned to overcome the limits she had placed in her own mind, Fiona discovered a freedom and passion she had never experienced before, and began sharing this discovery with others, which she continues to do today. Fiona currently lives in Fairfield, Connecticut.
More About This Title: Fearful to Fabulous: Unlock Your Power, Move On, and Thrive After Midlife Divorce by Fiona Eckersley will be released by Morgan James Publishing on May 12, 2020. Fearful to Fabulous— ISBN 9781642797039 —has 120 pages and is being sold as a trade paperback for $14.95
About Morgan James Publishing: Morgan James publishes trade quality titles designed to educate, encourage, inspire, or entertain readers with current, consistent, relevant topics that are available everywhere books are sold. (www.MorganJamesPublishing.com)