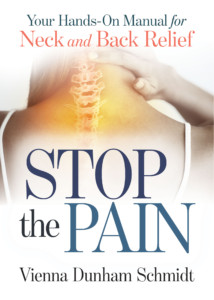 NEW YORK—May 19, 2019—Morgan James' new release, Stop the Pain: Your Hands-On Manual for Neck and Back Relief by Vienna Dunham Schmidt, is a simple guide for easing many types of chronic pain. Stop the Pain was written for anyone frequently suffering from pain, particularly in their neck or back.
Vienna Dunham Schmidt understands that chronic pain can impact a person's life in many ways, from disrupting sleep to limiting mobility to struggling to focus on everyday tasks. If allowed to continue, this pain will negatively impact the quality of a person's life. Expensive therapies promise to ease this discomfort, but Schmidt knows that many either do not last or do not work at all. Stop the Pain shows that chronic pain sufferers do not have to live with their pain; they can experience the relief they have always sought after.
In Stop the Pain, author and massage therapist Vienna Dunham Schmidt puts pain-relieving power into the hands of pain sufferers. Through a variety of detailed, proven strategies that are easy to understand, readers will learn how to take control of their pain on their own. They will accomplish this by discovering the causes of their pain and the most effective ways to stop it using their own hands. Through Stop the Pain, readers will save money, feel better, and enjoy the restored time and focus that a pain-free life has to offer.
If you would like more information about this topic, or to schedule an interview with Vienna Dunham Schmidt, please call Nickcole Watkins at 516.900.5674.
About the Author: Vienna Dunham Schmidt is a massage therapist with a passion for helping people and solving problems. Vienna currently works for Massage Envy, where she has helped countless clients stop their chronic pain. Vienna's talent and passion for relieving pain can be traced back to her college days, during which she helped many of her friends with their back and neck aches. She now uses her experience to not only help others through massage, but also train them to ease their pain with their own hands. Her effective and innovative massage techniques have led others to call her the "Rib Whisperer". Vienna currently lives in Olathe, Kansas.
More About This Title: Stop the Pain: Your Hands-On Manual for Neck and Back Relief by Vienna Dunham Schmidt will be released by Morgan James Publishing on May 19, 2020. Stop the Pain— ISBN 9781642796766—has 132 pages and is being sold as a trade paperback for $12.95
About Morgan James Publishing: Morgan James publishes trade quality titles designed to educate, encourage, inspire, or entertain readers with current, consistent, relevant topics that are available everywhere books are sold. (www.MorganJamesPublishing.com)