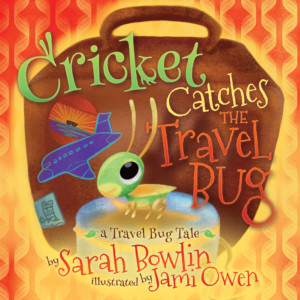 NEW YORK—March 24, 2020— Morgan James' new release, Cricket Catches the Travel Bug: A Travel Bug Tale, by Sarah Bowlin, is an endearing tale for young children, teaching them about all the adventures that traveling entails. With family trips on a steady rise, Bowlin provides a unique way for parents to educate their children about traveling in airplanes and using Uber. 
Cricket Catches the Travel Bug contains cute anecdotes and illustrations about long distance travel that educate young children on the mechanics of modern day traveling The character Cricket connects with children while encouraging a love for travel. Bowlin's story provides parents with the opportunity to help their children visualize the process of traveling while calming any concerns that their child may have before going on a family trip, whether it's their first time on not!
Sarah Bowlin has created adorable, likeable characters that evokes love and laughter from children and parents alike. She captures the relatable nerves of pre-trip jitters that any child may encounter prior on a first airplane ride or Uber trip. The little travel bug encourages kids to embrace their curiosity as they explore the world with their family. With Cricket Catches the Travel Bug, teaching and understanding travel has never been so much fun!
If you would like more information about this topic, or to schedule an interview with Sarah Bowlin, please call Nickcole Watkins at 516.900.5674.
About the Author: Sarah Bowlin created the business MomWithAMap.com to inspire families to travel. Having traveled the world with her own kids, she shares her family's adventures and misadventures along the best family-friendly travel tips, destinations, and must-have products. In addition to running Mom With A Map, Sarah "Worldschools" her daughter, Mary Grace and her son, Miller; coaches any sport she can talk her kids into playing; and volunteers her time as a Bible Study Fellowship Children's Leader. Born and raised in Atlanta, Sarah will always consider herself a Georgia girl. However, she has lived in Orlando, FL; Knoxville, TN; Lexington, KY and Chicago, IL before her family finally put down roots in Charlotte, NC where she currently resides. 
More About This Title: Cricket Catches the Travel Bug: A Travel Bug Tale by Sarah Bowlin, will be released by Morgan James Publishing on March 24, 2020. Cricket Catches the Travel Bug—ISBN 9781642796117—has 44 pages and is being sold as a trade paperback for $9.95. 
About Morgan James Publishing: Morgan James publishes trade quality titles designed to educate, encourage, inspire, or entertain readers with current, consistent, relevant topics that are available everywhere books are sold. 
( www.MorganJamesPublishing.com )
# # #